Engagement Ring Expo at The Wedding Ring Shop: Featuring Noam Carver
August 9th, 2023
The Wedding Ring Shop is excited to host The Engagement Ring Expo, an incredible weekend of savings on diamonds, engagement rings, and wedding bands between August 25th-27th in their beautiful Honolulu, Hawaii jewelry store. Don't miss out on The Engagement Ring Expo, which also offers an exclusive opportunity to meet Noam Carver, the man behind the gorgeous jewelry collections.


Sculptor, goldsmith, and jewelry creator, Noam Carver unites traditional, classic designs with innovative, modern aesthetics when it comes to the lovely engagement rings and wedding bands he designs for his brand. The precision honed by computer design and 3D printing is then executed with incredible detail by hand using the best materials. Meet and talk to the artistic genius behind the beautiful engagement rings and wedding bands that Noam Carver is known to produce at The Wedding Ring Shop August 25th through the 27th in their luxurious showroom, near the famous Waikiki Beach.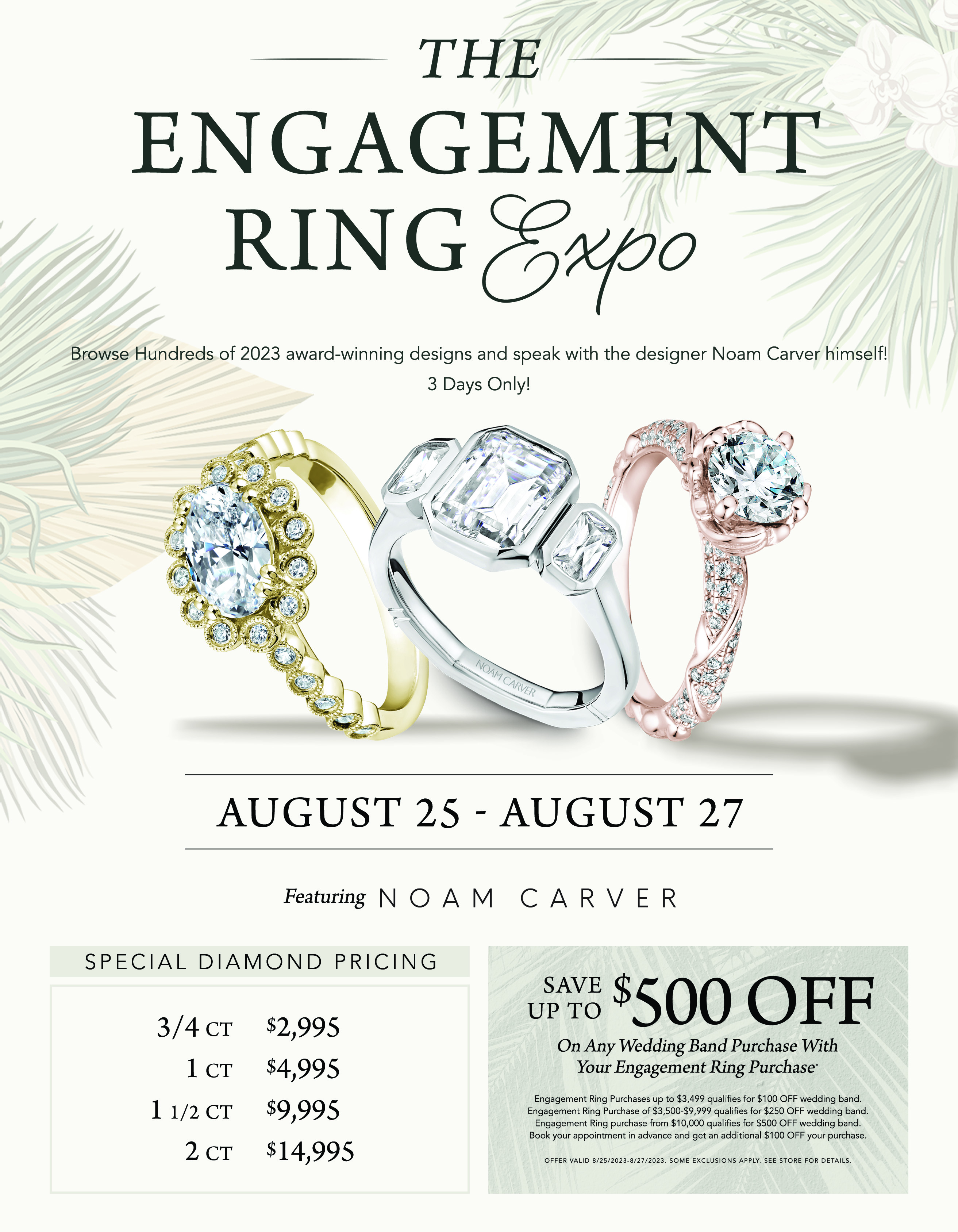 Find the engagement ring of your dreams during The Wedding Ring Shop's Engagement Ring Expo while saving money in the process. Only between August 25th to the 27th will there be special pricing on a selection of diamonds and engagement rings with savings towards the purchase of wedding bands as well; specially priced diamonds will include a 3⁄4 CT for $2,995, a 1CT for $4,995, a 1 1⁄2 CT for $9,995, and a 2CT for $14,995. Along with saving on the engagement ring, you can also save up to $500 OFF on any wedding band purchases when you buy the engagement ring and wedding band together; when you spend up to $3,499 on your engagement ring, you qualify for $100 OFF a wedding band; buy a ring for $3,500-$9,999 and qualify for $250 OFF a wedding band, an engagement ring purchase from $10,000 or more qualifies for $500 OFF a wedding band.

Receive an additional $100 off your purchase when you schedule an appointment in advance for the Engagement Ring Expo. Some exceptions do apply, but contact their Hawaiian jewelry store for specific details. Mark your calendars so you do not miss out on this remarkable event at The Wedding Ring Shop.

Join The Wedding Ring Shop for this wonderful Engagement Ring Expo featuring Noam Carver on August 25th-27th. Their professional team of jewelers are ready to assist with your experience and ensure you find the ring that will capture your love story in a dazzling form. Don't let the opportunity to meet Noam Carver pass you by in the fantastic atmosphere that is The Wedding Ring Shop's Honolulu jewelry store, the home of Hawaii's Most Beautiful Diamonds.