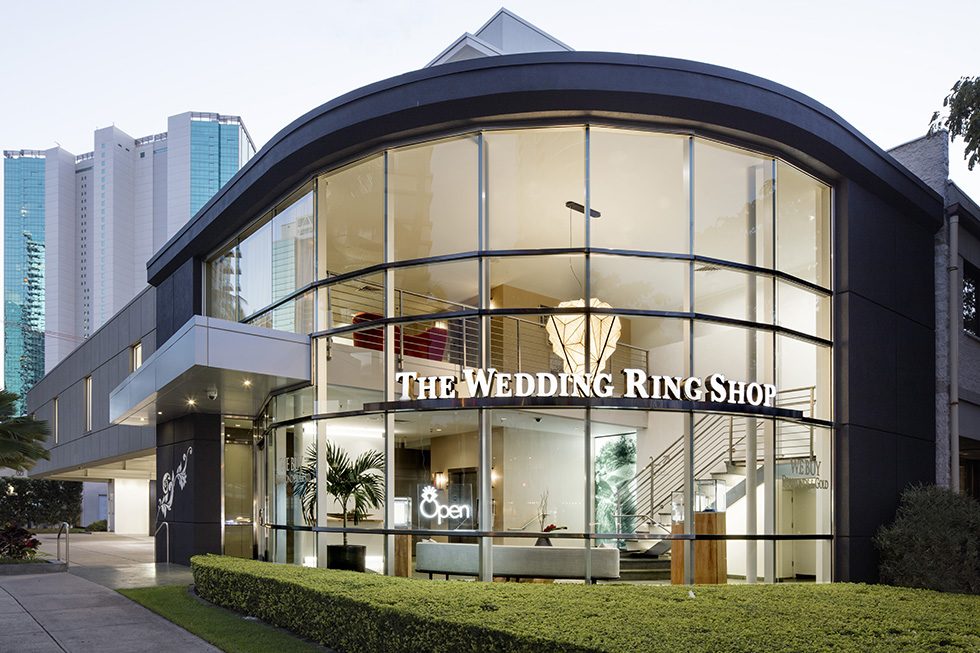 WEDDING RING SHOP
1181 KAPIOLANI BLVD
HONOLULU, HAWAII 96814, 


TELEPHONE NUMBER:
(808) 945-7766
WEDDING RING SHOP HOURS:
MONDAY - THURSDAY: 11AM - 6PM
FRIDAY & SATURDAY: 11AM - 6:30PM
SUNDAY: 12PM - 5PM
Our Difference
Michael Han, owner of The Wedding Ring Shop, felt that a ring was nothing more than a band with a diamond attached to it until he lost his ring.
"I felt a part of me was taken away, part of my past, my persona. It seemed even my spiritual strength was compromised." When Michael lost his ring, he not only lost a material possession, an entire lifetime of cherished moments flashed before his eyes.
It's more than a ring. It's a promise. It's a dream. A hope. An opening chapter. It symbolizes something unfathomable - everlasting love.
The Wedding Ring Shop, started by a 4th generation Kamaaina Family, opened its doors in 1987 in the Ala Moana Center. After 35 years of providing legendary service, building and maintaining relationships, they've been able to open a flagship store. Han values the personal relationships he's made over the years, focusing the design of the store with his customers in mind - with great care and aloha.
We truly care about you. We want you to be happy. Have a peace of mind with your purchase. That's why we guarantee a lifetime diamond warranty. With our lifetime diamond warranty, you will receive lifetime protection for your diamond purchase at no cost and free cleaning and inspection.
Now that you've picked out the perfect ring, it's time to pop the question. We all know it's nerve wracking. We can help you with making that special moment one for the books. Our friendly staff will provide you with ideas on setting the mood for your romantic proposal.
Because after all we've been through, we consider you our Ohana.
The Wedding Ring Shop is where it starts and where the magic happens, and nothing is more important than making the right decision in choosing the ring that symbolizes your love.