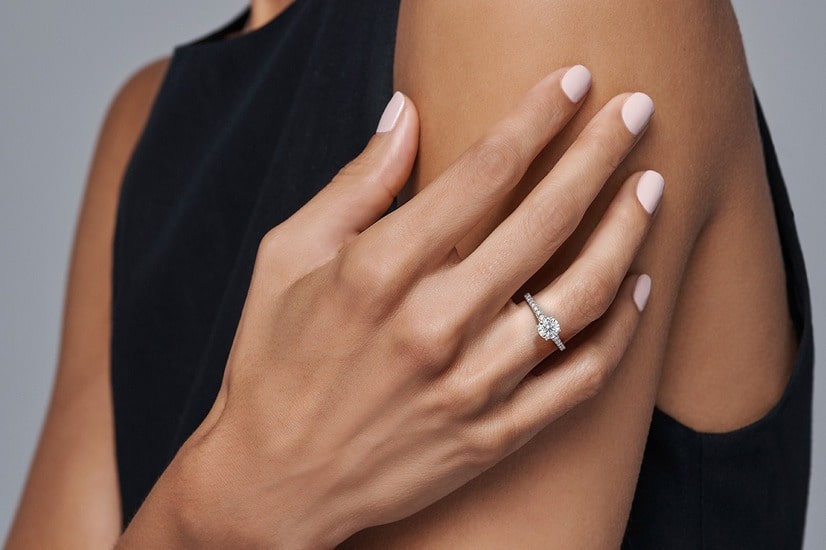 Ultimate Guide to Caring for Your Engagement Ring
Much like a marriage, engagement rings require care and attention to be their best. While they can last a lifetime, some precautions, maintenance, and professional care must be taken to allow them to retain their unique beauty. The measures one must take are multi-faceted and complex. We at the Wedding Ring Shop offer this guide to assist your ring ownership adventure.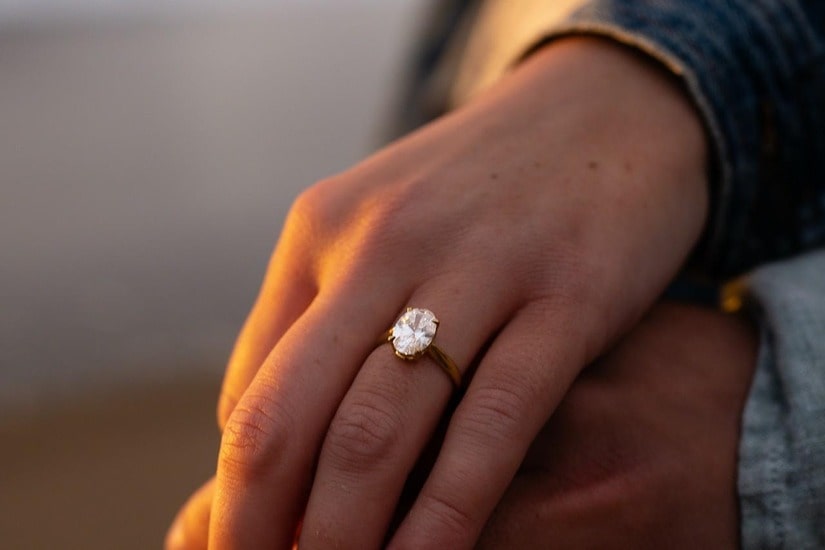 Precautions
Insure Your Ring
Insuring your engagement ring is the first and most important item to complete when it comes to caring for it. The more valuable your ring is, the more critical this step becomes.
Even though no money could replace your emotional connection with your original ring, the least you can do is have your ring professionally appraised and then insured based on its value. However, not every insurance company is the same, so research any insurance company before using their services. The Wedding Ring Shop even offers lux-surance at the time of purchase.
As unpleasant as it might be to consider that your ring could ever be lost or stolen, it's always best to take precautions. Your engagement ring is a valuable piece of jewelry and a significant financial investment. Purchasing insurance will give you extra security to protect this vital item. Hopefully, you'll never need it, but it's always best to be prepared.
Pay Attention!
Always watch your ring. Take note of where it is at all times.
If you ever take your ring off, try to keep it in a consistent place every time. That way, you'll know where to find it when you want to put it back on again. Never put your ring in a dangerous spot, such as the edge of the sink or bathtub. It's easier than you'd think to knock it down the drain accidentally.
As common wisdom says, never take something off if you don't want to lose it. The temptation might be overwhelming, especially in a dirty room like a public restroom. But no matter how dirty the environment, keeping the ring on your finger is always best. You risk accidentally setting it down and forgetting it or knocking it down a drain or sewer grate by taking it off.
Never store the ring in a pants pocket. If your ring slips out of your pocket, you won't realize it until much later. At that point, the chance of finding it is low. It's best to leave it on or in a safe place at home.
Setting or Diamond
In addition to setting an overall budget, you should plan on a budget for the diamond vs. the setting. This will make it easier to narrow down your options while staying under budget. Remember that, for most rings, the diamond isn't included. A one-carat diamond can cost between $2,000 to $16,000, which we'll review later in the guide. Our most affordable settings cost about $500.
When Not to Wear the Engagement Ring
One of the easiest ways to care for your engagement ring is to know when to leave it off. Cleaning, for example, involves harsh chemicals that can eat away at the finish and dull the shine of your diamonds. Moisturizing and showering introduce oils that can dull the ring's surface and make your ring slippery and easy to drop or lose.
Cooking is equally damaging. Common cooking oils, greases, and bacteria from food can get trapped under stones. Similarly, working out can affect your engagement ring in the same way. Dirt, bacteria, and sweat can build up on your ring. Avoid wearing the ring while swimming, as chlorine and saltwater are harsh and abrasive to your band and gemstones. If you plan on cooking, cleaning, or swimming, consider storing your engagement ring in a container like a plastic bag.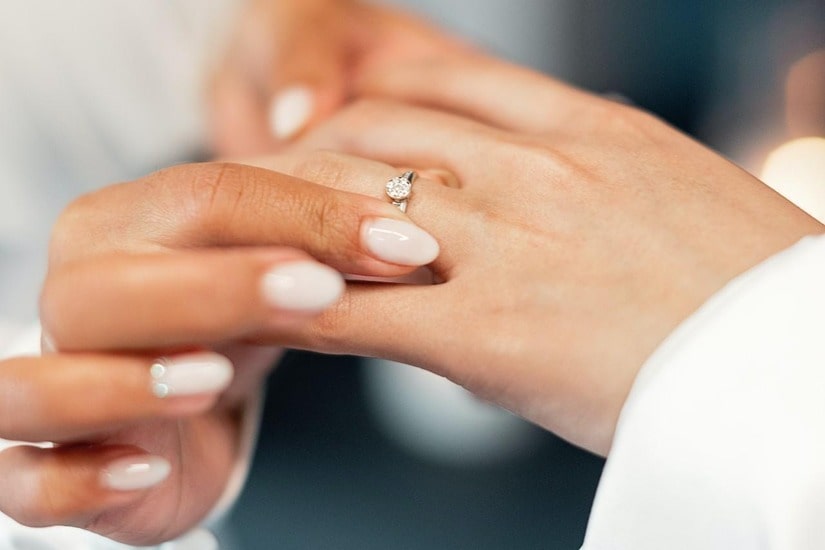 At-Home Maintenance
How to Clean Engagement Rings Yourself
Soap and water are perfect for cleaning engagement rings. You don't need fancy chemical cleaners to do a thorough at-home cleaning. Mix a solution of basic dishwashing soap with warm water and soak your ring in it for twenty to forty minutes. The dirtier your ring is, the longer it should soak. When you are finished, rinse it with warm water to remove the soap and any dirt the solution loosened. If necessary, use a very soft toothbrush to clean any grime without applying heavy pressure, then rinse with more warm water. Use a soft cloth – microfiber is best – to dry and polish the ring. Check out this Instagram post we've made about gently cleaning your ring at home.
Avoid these Products
Although diamonds are well-known for their incredible strength and durability, they are not impervious to damage. Harsh cleaning chemicals can be extremely damaging and should never be used to clean your ring, so always avoid any contact with bleach, chlorine, or acetone.
The same is true for products like baking soda or toothpaste. Although they are known for their safe cleaning abilities, they are abrasive enough to create tiny scratches on the surface of your delicate metals and precious stones. Soft-bristled toothbrushes are safe to use if needed, but avoid hard-bristled brushes as they can be just as damaging to soft surfaces like gold.
How Often Should You Clean Your Ring?
By cleaning your ring at home at least once a week, you can keep it looking beautiful and ensure dirt and oil don't build up. It is vital to incorporate cleanings and inspections with a professional jeweler at least twice a year. If you have an active lifestyle and your ring gets more wear and tear than most, it is a good idea to have this service done more often. This professional cleaning service not only keeps your ring looking new but will also notice any developing problems that need repair. Here at the Wedding Ring Shop, we offer free lifetime cleaning and inspection.
Jewelry Services
The Wedding Ring Shop Can Help
At-home cleaning is essential, but you'll still need to bring jewelry to a jeweler twice a year. We can get to the places you can't. Meanwhile, our advanced techniques and technology ensure a more extensive cleaning service. We at the Wedding Ring Shop are always happy to assist our customers with professional cleaning and inspection services. You can be confident that we've got the expertise to treat your pieces with the respect they're owed.
What Do Experts Do?
Honolulu guests are always welcome to visit our showroom to inquire about cleaning services. Those who've purchased diamonds from us can take advantage of complimentary cleaning and polishing whenever needed. When you bring your jewelry into The Wedding Ring Shop, that's the first step in a thorough process to ensure that your pieces are 100 percent clean when returned to you. We begin by examining your jewelry under a high-powered microscope to determine if there's any damage we can repair for you. Our goldsmiths are ready to help.
If there isn't any damage, we continue polishing the metal. Silver, gold, and platinum (and more exotic metals) require different methods, all of which we are well-versed in. We then clean the stones and settings. For diamonds, we're careful in ensuring that every facet is polished to a sparkling sheen. Should the ring use unorthodox gemstones like opals and sapphires, we can still give them the thorough cleaning they deserve. Plus, even with complex settings like channel or micro-pave, you can trust that our team will get into each nook and cranny to clean the engagement ring.
Find the Perfect Engagement Ring at the Wedding Ring Shop
At the Wedding Ring Shop, we are passionate about helping our guests receive beautiful engagement rings that retain their radiance for decades. To do this, we not only offer fine diamonds and settings, but we also provide exceptional jewelry services like polishing and repair. We can even work with you to create your own engagement ring to fulfill your wildest dreams. Call (808) 945-7766 to learn more about Hawaii's most beautiful diamonds.