The Ultimate Engagement Ring Buying Guide
Buying an engagement ring is a long and complicated process. Learn the details of the journey with the Wedding Ring Shop.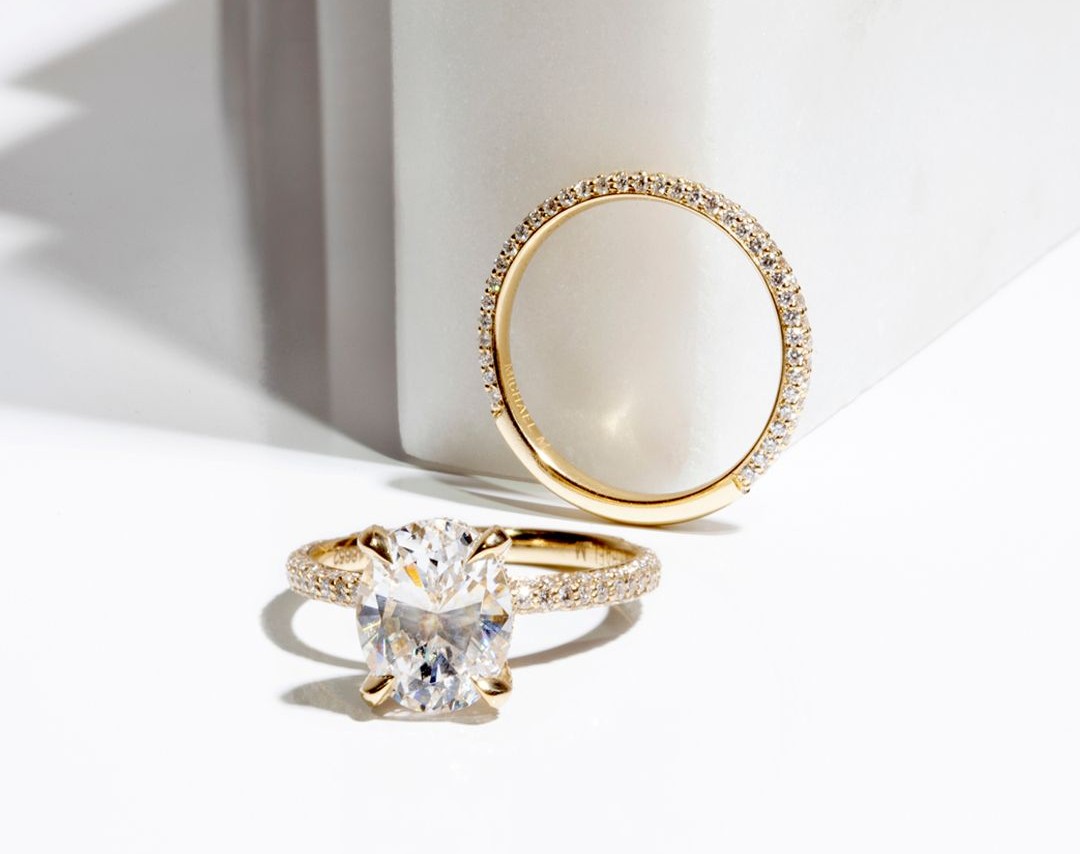 An engagement ring is a timeless, essential, and romantic symbol. These brilliant and beautiful accessories are meant to be worn for a lifetime while signaling to the world that the wearer is committed and in love. Vibrant and luxurious, engagement rings are iconic and chic, sporting glamorous precious metals and radiant diamonds. There is a diverse variety of rings available, each embodying unique characteristics. Finding the perfect ring can be an adventure; it can be incredibly confusing if one doesn't know the entire process. Luckily, we're here to help. Learn how it all works with the Wedding Ring Shop.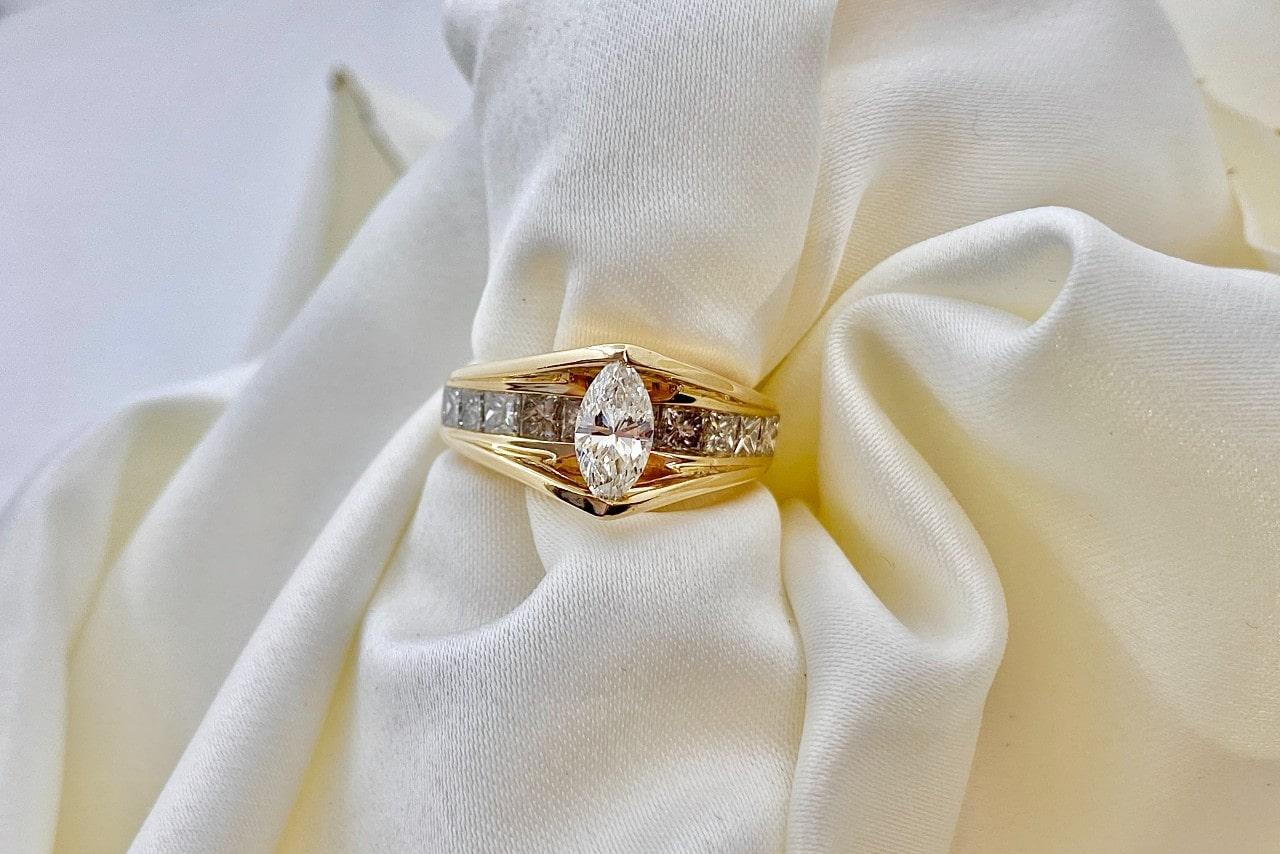 Preparing to Purchase
Before deciding on an engagement ring, it's essential to make the preparations. You can save a lot of headaches by budgeting well and getting the appropriate measurements. It may not be exciting, but it will ensure you find the perfect ring.
Making a Budget
You shouldn't sacrifice your marriage for an engagement ring. Giving up your savings can put extra stress on a relationship, especially while preparing for the future. Sure, there is a tradition that the groom spends three months of salary on a ring, but this comes from a marketing campaign in the 1950s. If you can't afford a fancy engagement ring, you can always buy a new engagement ring later when you have the funds.
Setting or Diamond
In addition to setting an overall budget, you should plan on a budget for the diamond vs. the setting. This will make it easier to narrow down your options while staying under budget. Remember that, for most rings, the diamond isn't included. A one-carat diamond can cost between $2,000 to $16,000, which we'll review later in the guide. Our most affordable settings cost about $500.
Measuring the Ring Size
Every finger has its own length and width, so it's essential to get a ring that fits. Should it be too tight, it will be uncomfortable and cut off circulation (if it can be worn at all). Rings that are too loose can slip off and tumble into a lost and found box.
Finding a ring size can be easy. You can either head to a jeweler for an accurate sizing or do it at home. The latter may be more convenient, but the former is more precise. At home, you'll want to get a tape measure, a marker, and an online size chart. Charts can be found via a quick search.
Wrap the tape around the ring finger around mark where the ends meet. Compare this to a ring size and you've got yourself a fairly accurate sizing. Note that different countries have different units; for example, the UK uses A to Z while the US utilizes numbers 0 to 13.
Sending a Secret
If you're trying to make the marriage proposal a secret, you have to take a few extra steps. To find out their ring size, take one of the fashion rings they own to a jeweler (just make sure they don't wear it often). If they don't own any, ask their friends. If they don't know, give your soon-to-be spouse a decoy ring and offer a resizing.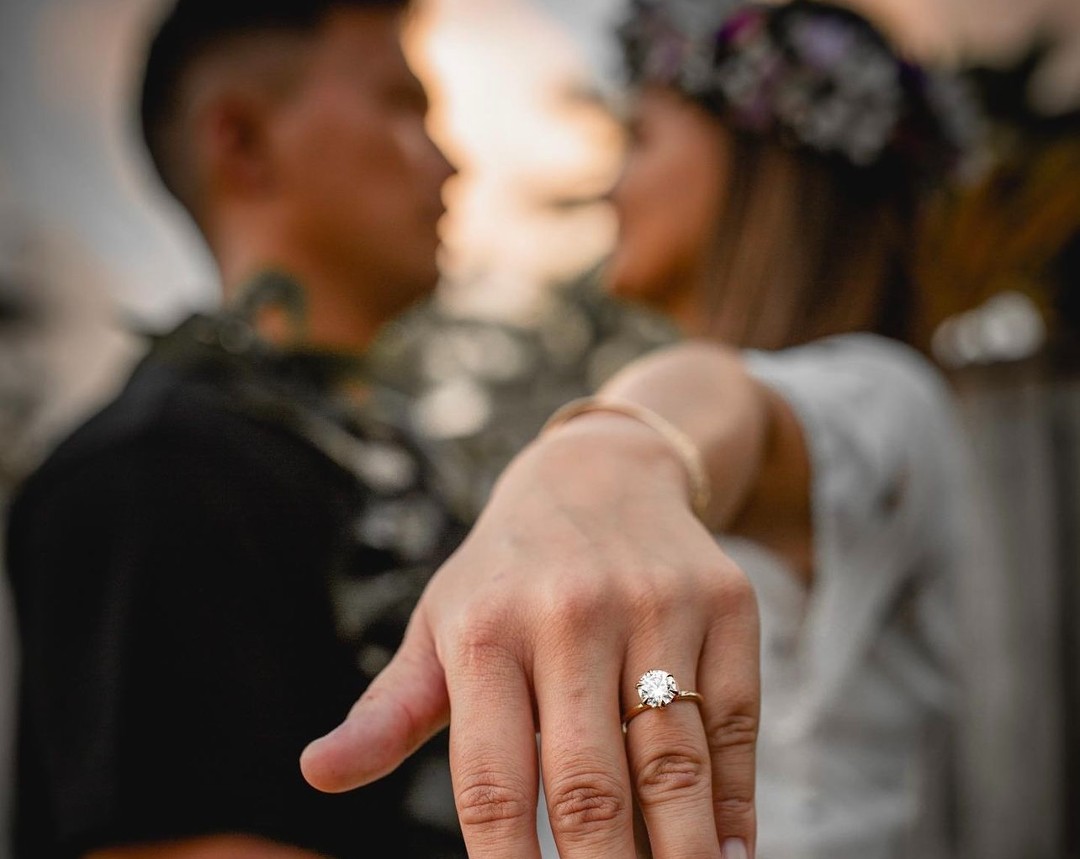 Selecting The Perfect Ring
Now that you've done some planning, it's time for the fun part: picking an engagement ring. These gorgeous, romantic accessories have two parts: the setting and center stone. The former consists of the band, mount, and any accent diamonds. Meanwhile, the center stone (usually a diamond) is the gemstone that defines the piece. Be aware that not all settings can hold every gem, so always ensure it fits. It is always great to get a full understanding of the engagement ring keyterms you will hear and see as you do your shopping so do your reasearch! 
A Suitable Setting
Designers offer a myriad of stunning, attractive, and beautiful settings for engagement rings. They are available with all sorts of details, materials, and more.
Picking Precious Metals
Most engagement rings are made with either a gold alloy or platinum. Each provides its own color and physical properties that make them distinctive. Here are a few and how they differ from each other. Some engagement rings feature multiple alloys to create a vibrant and colorful display. Find your favorite precious metals for engagement rings.
Setting Styles
In addition to the band's precious metal, the setting can provide light and spectacular beauty to the ring. There are several types of engagement ring settings; each is distinctive and unique. They vary in the amount of brilliance, radiance, and glamor they evoke. Their shapes and sizes can suit different people, so it's important to learn what engagement ring setting is right for you. Here are the most popular.
Solitaire: By far the most common setting, solitaires take a more minimalist approach. They lack accessory diamonds and tend to have a simplistic silhouette. Solitaires accentuate the center stone by letting it shine alone. While most solitaires are understated, some have intricate metalwork to enliven the aesthetic.
Side Stone: A step up in spectacle from solitaires, side stone rings have diamond accents surrounding the center stone. These accents occasionally exhibit sapphires and other gemstones. The types of side stones include the following, which are often used in other settings.
Pave: A line of diamonds said to resemble a cobblestone road. They are set in such a way as to reveal as little of the setting as possible, making the diamonds appear to float as they are held onto the pieces of jewelry with little beads of metal.
Channel: This setting appears like a line of diamonds imbued between a crease in the band's precious metal.
Prong: In this setting diamonds or gemstones are held in a cradle of tiny metal posts gently curved to create a claw-like setting that allows light to shine through.
Halo: This spectacular setting encases the center stone in a layer of smaller diamonds, lending light to an eye-catching and extraordinary display. Halos can use larger diamonds to create a solar-style effect. While most are meant to be viewed from the front, "hidden halos" can be seen only from the side profile.
Three Stone: For a particularly spectacular and mesmerizing chic, pick a three stone engagement ring. These engagement rings surround the center stone with two similarly sized stones. It is said that they represent the past, present, and future to symbolize an eternity of love and commitment. Some three stones have halos to achieve a peerless level of light and luxury.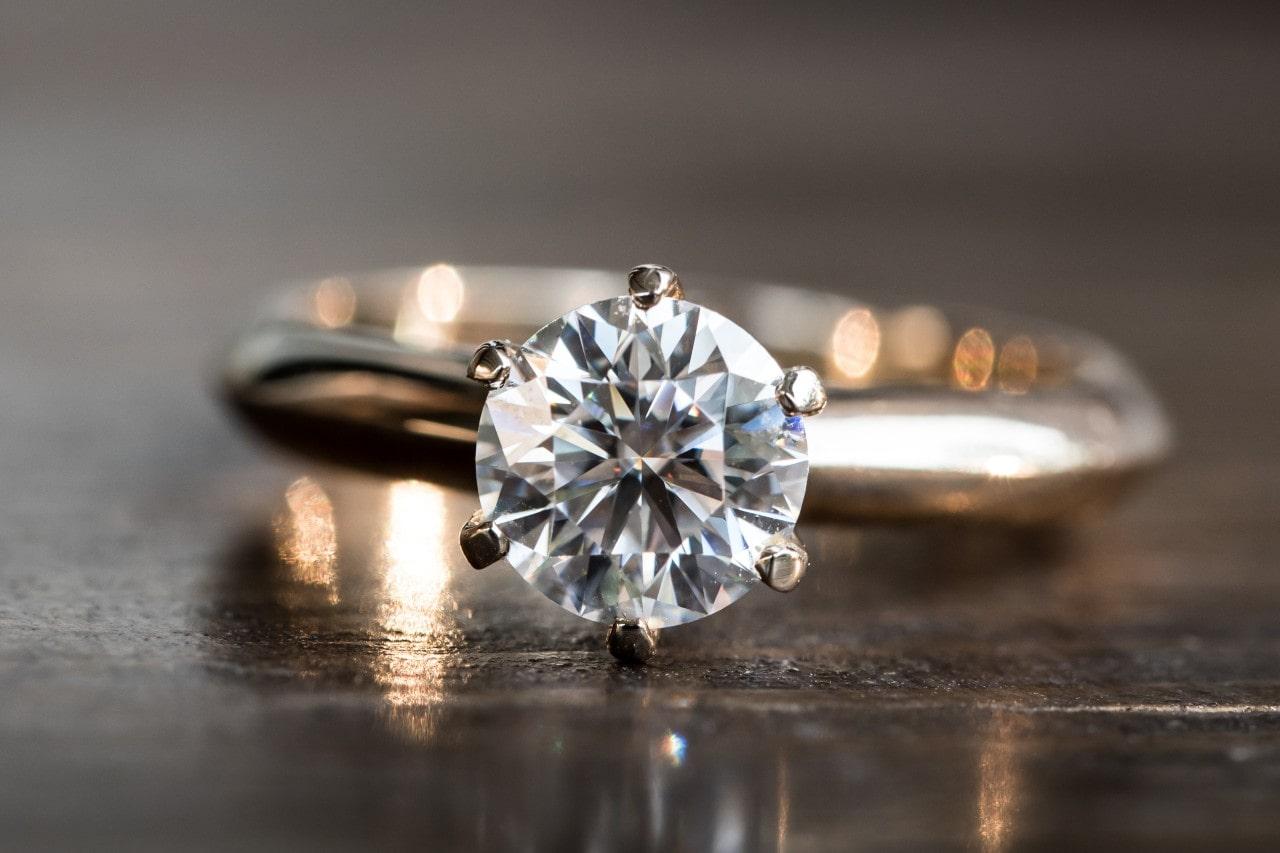 Deciding a Diamond
The diamond is the centerpiece of an engagement ring. These radiant, enchanting gemstones are peerlessly strong, brilliant, and beautiful. There is much that goes into picking a diamond, as there is great variety in these marvelous stones. The Wedding Ring Shop offers over 10x more than the normal jewelry store, with many different shapes and sizes of all budgets.
Priorities and The Four Cs
When choosing a diamond, it's essential to think about your priorities, especially if you're working with a budget. The Four Cs is how gemologists grade the quality of a diamond. Every individual diamond has a unique array of qualities that defines its expense. When buying a diamond, ruminate on these qualities and think about what's important to you.
Clarity:

 This indicates the number of blemishes and inclusions in a gem. 

The less inclusions a diamond has, the more rare it is;however, these flaws make the stone special and give it some personality.

Carat: The size of a gemstone is measured in carats, not to be confused with karats or the vegetable carrots. Larger diamonds are almost always more desirable.
Color: While the ideal diamond is colorless, almost all diamonds have a yellow-brown tint. Some are even entirely yellow or brown. Colorless diamonds are considered more rare, but some prefer the stunning hue of a yellow diamond.
Cut: A natural diamond is beautiful, but it takes a gem cutter to bring about its shine and beauty. Some cuts are more pricey than others, but they all offer their own aesthetic. Many cuts are available, but we'll go into that in the next section.
Shapes and Cuts
Shape and cut are both are essential for the engagement ring's look. There's a fantastic variety of diamond cuts, so there's something perfect for every taste. 
Cut
: The cut of a diamond refers to the way the diamond has been shaped and faceted to enhance its brilliance and sparkle. It is one of the most crucial factors onfluencing a diamonds beauty and value. the cut determines how well the diamond interacts with light, allowing it to reflect and refract light to create the dazzling sparkle that diamonds are known for.
Shape: The shape of a diamond refers to the outward apperance or silhouette of the stone when viewed from above. There are various diamond shapes available, each with its unique characteristics and appeal.Here are some of the shapes we have at the Wedding Ring Shop.
Round: Also known as the "brilliant" cut, these diamonds are more brilliant than others due to the placement and number of facets. Round cut diamonds are by far the most popular, making up a majority of all diamond sales. 
Princess: These perfectly square-shaped diamonds are regal, eccentric, and striking. They evoke a spectacular and unforgettable look.
Cushion: The third most popular cut, these resemble a combination of princess and round stones. They have soft corners and a luxurious, spectacular sparkle.
Radiant: This shape resembles an octagonal princess cut, a square-shaped diamond with cut-off corners. It is bright and vibrant while retaining a distinctive geometry.
Emerald: A rectangular cut named after a traditional shape for another gemstone, these rare shapes are elegant and sophisticated. They evoke a fantastic "hall of mirrors" light display reminiscent of an infinite hallway. Emerald cut diamonds reveal a diamond's clarity, ideal for showcasing a high-quality stone (or bad for showing off a low-end diamond).
Oval: For those who love the brilliance of a round stone but want something more unique, pick an oval. They evoke an exceptionally bright display when viewed from the front.
Pear: Sometimes called a teardrop diamond, the pear has an elegant shape with a unique glamor. It has a wide, rounded bottom and a sharp top.
Find the Perfect Engagement Ring at the Wedding Ring Shop
At the Wedding Ring Shop, our mission is to keep Hawaii couples in love and style as we aim to be Hawaii's best engagement ring store. . Our vast selection of today's finest designer brands and an exceptional array of diamonds to choose from ensures that every visitor receives nothing but the best. In case you can't find the exact setting in mind, create your own engagement ring with our talented goldsmiths and gemologists. Call us at (808) 945-7766 and learn more about Hawaii's most beautiful diamonds.