Halo Rings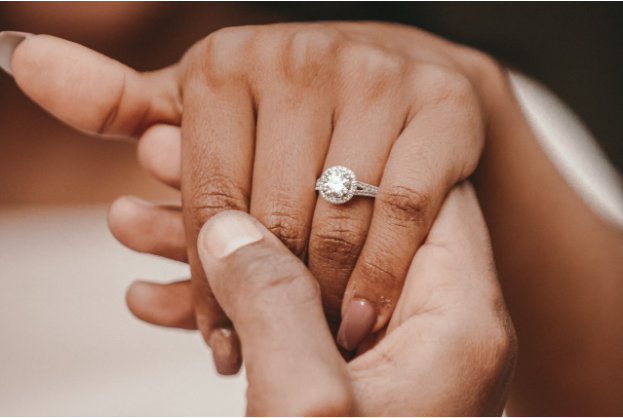 CHARACTERISTICS OF HALO RINGS
Halo engagement rings offer couples some of the highest levels of brilliance in bridal jewelry. Surrounded by a cluster of sparkling stones, the center stone can take center stage. Halo rings all feature a halo of diamonds but can differ in style, size, and stone type. Popular metal types include pink, rose, white, and yellow gold, as well as platinum rings. In terms of stone cut, you'll find everything from the classic round and princess cuts to the more unique Asscher and pear cut diamonds. The Wedding Ring Shop carries halo rings by a range of leading engagement ring designers.
POPULAR HALO RING COLLECTIONS
Tacori's take on halo rings offers wearers a breathtaking selection inspired by classic designs. Each ring features Tacori's signature crescent silhouette, symbolizing interlocking half-moon arcs. Explore a vast selection of conflict-free diamonds and halo designs. The Petite Crescent Collection offers wearers a refined and slimmer alternative to its Classic Crescent Collection inspiration. The RoyalT Collection brings regal design flairs on a shimmering platinum base. RoyalT pieces offer an undeniable heirloom appeal that can be passed down for generations. Tacori's Dantela Collection incorporates lace-like designs for a romantic and dramatic look.
ADDITIONAL HALO RING COLLECTIONS
Michael M offers jewelry wearers bold and daring designs featuring one, and sometimes, two halo circles. Michael M's Loud Collection features two hypnotic circles of diamonds. Michael M's Europa Collection has its signature U-setting to give your center stones a better frame. Explore a softer and delicate range of halo rings with Noam Carver's collections. A range of gold hues is set ablaze with the center stone, halo, and side stones running down the shank. Noam Carver's floral and vintage designs inspire confidence and courage. If you want a halo ring designer that thinks outside the box, choose Noam Carver.
WHY CHOOSE THE WEDDING RING SHOP?
Shop halo engagement rings at The Wedding Ring Shop's showroom in Honolulu, Hawaii. The Wedding Ring Shop is here to serve residents from Pearl City, Kailua, Waipahu, and other cities nearby. We carry the most original halo ring designers including Christopher Designs, Hearts In Fire, Kirk Kara, Shah Luxury, and A.JAFFE. We also offer custom ring design services to make your dream ring a reality. To speak with one of our expert jewelers about our products or services, call us at 1(808) 400-6781 or send an email to wrs@weddingringshop.com.