HONOLULU'S BEST JEWELRY STORE 2022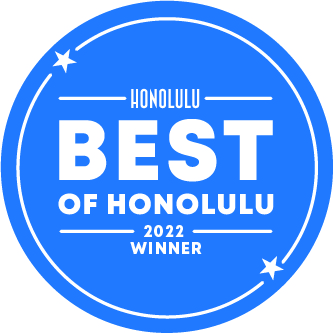 Honolulu's Best Jewelry Store
Mahalo for letting us be a part of your love story!
The Wedding Ring Shop was recently named Best Jewelry Store in HONOLULU magazine's annual Best of Honolulu reader's choice awards. Our team is humbled by the honor, and we thank you — our WRS Ohana — for inspiring us to constantly strive for our best. We are proud to offer Hawaii's Most Beautiful Diamonds. We carry Honolulu's largest selection of engagement rings and wedding bands of the highest standards and provide kama`aina and visitors alike with our legendary customer service.
We believe our community in Hawaii deserves only the finest quality products and we are proud to have the best luxury jewelry store in Honolulu since 1987. The Wedding Ring Shop started in the Ala Moana Center by our fourth-generation Kama'aina Family and is owned by Michael Han. After twenty years of building dedicated relationships, we opened our flagship showroom down the road from where the magic began. Not far from Waikiki and within a block of Ala Moana Beach, we love thriving in our beautiful community and know our talented professionals will be able to assist with all of your bridal and fine jewelry needs. 
Explore An Unbeatable Selection of Luxury Bridal and Fine Jewelry
When it comes time to buy the one you love the engagement ring that will start your new path together, or a gift to celebrate how wonderful someone in your life is to you, The Wedding Ring Shop in Honolulu ensures only the finest jewelry for the occasion. With beautiful ring collections from designers such as Tacori, Noam Carver, and Hearts on Fire, you can be sure to find the bridal rings to match your romance and have your partner smiling for years.
The beautiful details and cherished thoughtfulness of gifting fine jewelry is a beautiful memory that the person gets to wear forever. We house a fantastic selection of Michael M that would make a lovely choice for yourself or that special person in your life. 
Professionals Services Available at The Wedding Ring Shop
Our dedicated professionals not only can help you choose amazing pieces of jewelry to fit many different styles, but the entire lifetime of your jewelry. That is why we feel it is so important to build relationships with our Honolulu clients so that we can take care of all your jewelry needs. After your purchase, we will protect your diamond with our lifetime diamond warranty, which means you will receive lifetime free cleanings and inspections to ensure your diamond remains perfect. 
With in-store jewelry repair, we can have you back wearing your piece quickly and completed with exceptional skill. We can also design custom engagement rings and have a gold and diamond buying program.
The Wedding Ring Shop Is Your Trusted Honolulu Jeweler
For almost 35 years, The Wedding Ring Shop has had the honor to serve the Honolulu community with incredible care when it comes to their bridal and fine jewelry needs. We value the personal relationships we have been able to build and look forward to growing more in the future. Our value remains with our customers because it is with you that we are able to be even better. Shop our incredible selection from some of the best designers in the world all housed together in our beautiful Honolulu showroom, or start by browsing our website. We can also be contacted at (808) 945-7766 if you would like to speak with one of our professionals about our products or services.
WHAT PEOPLE ARE SAYING
"The Wedding Ring Shop was by far one of the best experiences my now fiancée Kim and I have had while engagement ring shopping." -Derrick
"I can't recommend The Wedding Ring shop enough! Ever since we walked in just to browse, we felt welcomed and taken care of. Our diamond consultant Helena is the true gem of this establishment." -Jenny M.
"I absolutely love this store, the experience I had for an engagement ring consultation, and of course the wonderful staff here at The Wedding Ring Shop." -Keli F.