A Refined Rustic Beach Weddings
April 15th, 2017
For many couples, a formal or "fancy" wedding just doesn't fit the bill particularly when the wedding will take place on the beach! You want something a bit more relaxed and not so "stuffy," a wedding that suits your own style preferences. Because our business is engagement rings, wedding bands, and diamond wedding jewelry, we know a few things about getting hitched! If you think an understated rustic beach wedding sounds fabulous, we have a few ideas.
This type of wedding offers a more laid back, unpretentious feel for both you and your guests. Many beach weddings are relaxed anyway; that's the purpose of getting married on the beach! A rustic wedding is not only romantic, but will likely cost less than a traditional or more elaborate wedding.
Wildflowers or those native to the area where you're going to wed are perfect for the bouquet. Imagine using driftwood to outline the aisle, accented with wooden lanterns containing candles, moss, and native flowers. Totally romantic!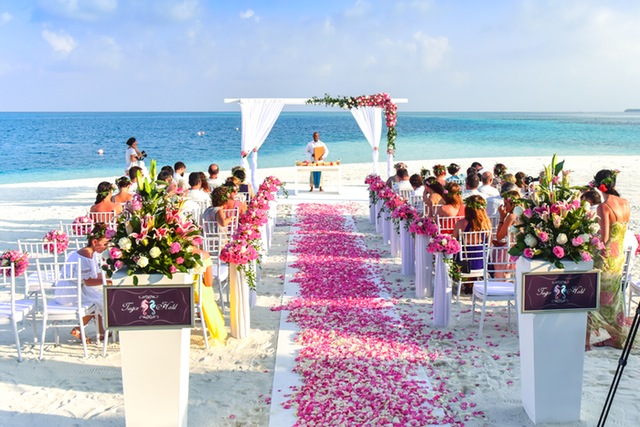 For the rehearsal dinner or reception, what would me more fitting than old Mason jars filled with wildflowers adorning the tables? You can make good use of old wooden butter churns, metal tubs, anything old and rustic.
Intend to have an arbor when you say your I-do's? You can easily create a bamboo arbor (or have someone who's handy do it for you) using a couple of bamboo posts decorated with natural greenery and flowers, lace ties, burlap fabric, roses, anything you like.
Another nice thing about a rustic beach wedding is that the girls and guys in your wedding party don't necessarily have to match! For instance, you may want your bridesmaids to wear a soft yellow or cream, but let them choose their own dresses. Another unique touch, and your bridesmaids will enjoy being a bit different from one another!
If you're having a rustic wedding, you'll probably want to stick with this theme when it comes to the food. Instead of steak & lobster or other expensive fare, your guests will enjoy ham, fried chicken, mac and cheese, beans, cornbread, and maybe some local Hawaiian food just as much maybe even more.
A rustic beach wedding is so much fun because you can use your own ideas, some of the old relics you (or your parents) may have stored away, natural elements from your surroundings at the beach, and more to create a wedding that"s truly unique and more comfortable on you as a couple than a stiff, formal affair. Have fun and be original! After all, it is YOUR special day.
Still looking for the perfect diamond engagement ring or wedding bands you"ll both cherish for a lifetime? Trust The Wedding Ring Shop for exquisite wedding jewelry and the ultimate in quality.