Magical Hawaiian Proposals and Rings To Match
August 15th, 2023
Crafting an unforgettable, romantic, and thrilling proposal is an art form. It's vital to capture the essence of your future fiancé's personality in this cherished moment. Each proposal is as unique as the love story it celebrates, becoming an indelible part of your shared history. At the heart of every proposal lies the symbol of your love - the engagement ring. Nestled in the heart of Honolulu, The Wedding Ring Shop understands this profound significance. We offer an unparalleled selection of exquisite designer engagement rings to complement any proposal scenario. Allow us to provide the perfect canvas for your declaration of lifelong love and commitment.
Sunset Beach Picnic Proposal
For a laid back yet intimate proposal, a sunset beach picnic proposal in Hawaii pairs the romance of commitment with the breathtaking natural backdrop of the Pacific Ocean. The sun's descent over the horizon serves as the perfect setting to present a classic solitaire engagement ring. An excellent choice is this Noam Carver ring, renowned for its simplicity and elegance. It showcases a brilliant round cut diamond set in a pristine white gold band, symbolizing a love as timeless as the ceaseless rhythm of the ocean waves meeting the Hawaiian shores.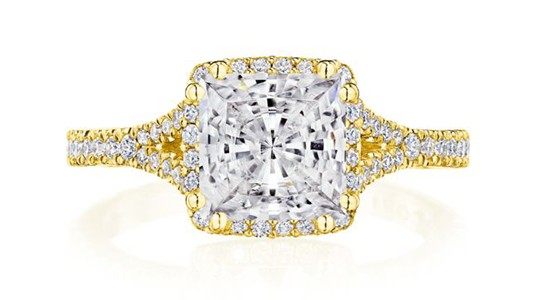 Private Helicopter Ride Proposal
Proposing amidst the breathtaking panoramic views offered by a private helicopter ride over the Hawaiian islands elevates the moment to new heights. This thrilling engagement setting marries adrenaline with romance, providing an unforgettable experience. Complementing such a momentous occasion calls for an equally stunning ring, like this piece from Tacori's Dantela collection. This spectacular piece features a split-shank design and a princess cut diamond, a nod to the thrilling heights of the proposal. Crafted in yellow gold, it balances modern sophistication with traditional elegance, encapsulating a love story as riveting as the sweeping views from above.
Luau Dance Proposal
Inject a vibrant dose of local culture and fun into the traditional engagement setting with a proposal during a Hawaiian Luau dance. The festive atmosphere, rhythmic music, and lively dances contribute to an unforgettable moment. For such a vibrant proposal, a whimsical setting with a fun pear-shaped diamond is an apt choice. The ring's unique design features a pear-shaped diamond, framed by round diamond side stones and set in white gold, beautifully encapsulating the vibrant spirit of a Luau dance proposal.
Stargazing at Mauna Kea Proposal
A romantic night of stargazing at Mauna Kea presents a serene and intimate backdrop for an engagement, where the clear, star-filled Hawaiian skies set the stage for a love story to unfold. This celestial location provides a unique way for a couple's bond to reach astronomical heights. Complementing this profound moment is this Gabriel & Co Contemporary engagement ring. This exceptional piece features a three-stone setting, symbolizing the journey of past, present, and future. The center diamond is beautifully contrasted by sapphire side stones, their deep blue hue echoing the vast night sky, making this ring a fitting tribute to a celestial-themed proposal.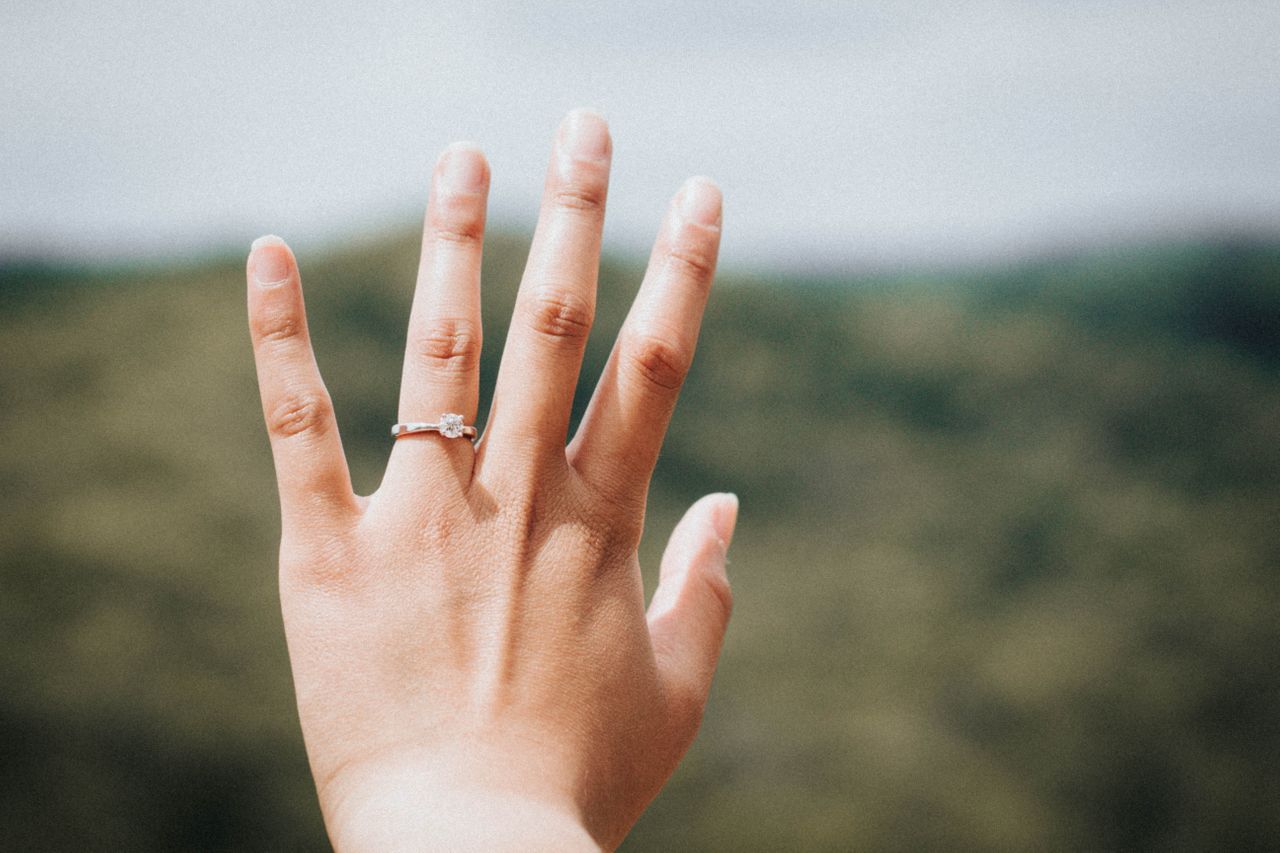 Find a Beautiful Engagement Ring at The Wedding Ring Shop
For the ultimate selection of exquisite designer engagement rings in Hawaii, The Wedding Ring Shop is your destination of choice. Our Honolulu jewelry store offers a blend of traditional and contemporary designs to match your unique love story. With each ring crafted to perfection, we strive to provide the symbol of love that reflects your heart's deepest commitment. Our expert team members are ready to guide you through the process, ensuring that your ring is as special as your proposal. To experience our personalized service, request an appointment for a consultation with one of our knowledgeable team members today.