Custom Engagement Rings Guide
February 15th, 2023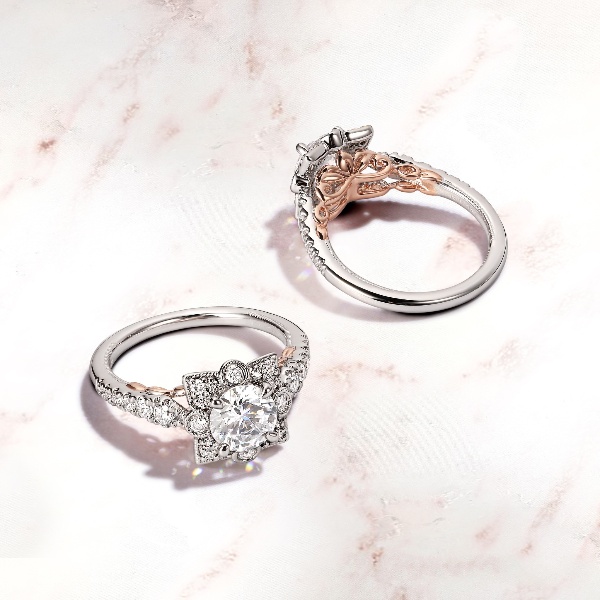 Why Custom Design?
While designer brands offer a wide and varied selection of fine jewelry, sometimes, one desires something different. Custom design is the only way to get a truly unique and one-of-a-kind engagement ring. By selecting the elements you and your partner love, you can create a distinctive and expressive piece. You and your partner can work together to devise a romantic accessory that can't be found on any other finger. It will reflect the beauty of the love story the engagement ring represents.
In addition, you can pick elements challenging to find from designer brands. Unusual gemstones, elaborate diamond settings, and more are possible through custom design.
Picturing the Result
Setting
We can create all kinds of custom settings. The only limit is your imagination. Interested in a romantic split shank style? Our goldsmiths are more than capable. Prefer an understated contemporary chic? We can help you find a silhouette you love.
Our goldsmiths take pride in the variety of alloys they can incorporate into your design. Each evokes its own unique aesthetic and color. Before picking the metal for your setting, consider your options. They include:
White Gold: This radiant precious metal has a stunning bright hue. It is more valuable than silver but never tarnishes. In addition, it is more robust than sterling silver. It is plated with rhodium for some extra shine. Note that white gold engagement rings should be brought back to us to be redipped to ensure the piece retains its brilliance.
Yellow Gold: Gold is naturally yellow, and this alloy continues to sport its natural shade. It has a regal classic look that always attracts attention. This accentuates the glamorous radiance of colorless diamonds perfectly.
Rose Gold: This gold alloy exhibits a delightful pink-red hue from copper added to gold. It features a vibrant feminine chic adept at making a statement.
Platinum: Among the most valuable precious metals, platinum has a reputation for luxury and high-end. It has a lighter color than white gold and sterling silver. It neither tarnishes nor will require to be redipped in another alloy to retain its brilliant color.
Palladium: We're pleased to offer such a rare and exquisite precious metal in custom design. Sporting a color and shine similar to platinum, palladium is lighter and harder to scratch than its peers.
Mixed Metal: Our team can work multiple metals into the piece to establish a bold contrast and unusual style.
Precious metals aren't the only important part of an engagement ring setting. You can also pick between a variety of settings. Some can even have sapphires and other gemstones for a unique display. These include:
Three Stone: This setting is spectacular, displaying three large gemstones flanking the center stone. Our goldsmiths can set all sorts of jewels as accessory stones, allowing for a varied and spectacular chic. The Wedding Ring Shop's Lifetime Diamond Warranty covers your center stone.
Solitaire: A minimalist setting, solitaires rely on elaborate metalwork to create an understated elegance. Goldsmiths can imbue them with eccentric silhouettes and engravings to give them a little more personality.
Side Stone: These rings are a step up in spectacle from solitaires, sporting diamond accents on the shank to evoke a more luxurious style.
Halo: Some engagement rings surround center stones with small jewels. This result in a bold spectacular radiance.
Get Creative: Since this is a completely unique piece, we can craft something outside the box. Twin center stones, expressive motifs, and more are just a few possibilities.
Center Stone
Choosing a center stone from such a varied and extensive selection can be challenging. While you can create an engagement ring with almost any gemstone, most decide on diamonds. At the Wedding Ring Shop, we have a marvelous selection of Hawaii's most beautiful diamonds.
That's why we employ gemologists and other experts to help every guest find the perfect one. When you custom design your engagement ring, you can browse our inventory to find something that suits you.
Before heading to us for a private consultation, we recommend that you consider the four C's and what you prioritize. The "four C's" refers to the standards gemologists use to grade diamonds: carat, clarity, color, and cut.
Carat: A numeric representation of the gem's size. One carat is 0.20 grams or a fifth of a gram. Larger gemstones are always more valuable.
Clarity: This grade indicates a gemstone's inclusions or blemishes. Diamonds are the product of nature and almost always have flaws. In fact, most diamonds can't be used for jewelry as they have too many inclusions.
Color: While the ideal and most iconic diamond is colorless, only a few stones can boast this quality. Most diamonds have a yellow-brown tint ranging from barely visible to nearly opaque. Some people prefer the chic eccentricity of yellow and brown diamonds.
Cut: The overall shape of a diamond is usually called the cut. While inherently beautiful, a professional must cut and polish diamonds to bring about their fullest potential. They do so in many styles, ranging from the ubiquitous and radiant round cut to the contemporary and regal princess cut. The cut is among the most important parts of designing an engagement ring.
The Creation Process
Now that you've thought about what your dream engagement ring looks like, it's time to embark on the exhilarating journey of custom design.
The first step is to contact us at the Wedding Ring Shop. We will set a time to meet and discuss the future of your custom engagement ring. During our appointment, we'll discuss plans. Our experts will create a 3D depiction of your ring using CAD software. We can even make a wax model of the piece that you can wear. After a few weeks, we will contact you to pick up an unforgettable, wearable representation of your marriage.
Who Does The Designing?
At the Wedding Ring Shop, we employ several experts knowledgeable in the art of jewelry. Some are certified gemologists trained by prestigious organizations like the Gemological Institute of America (GIA). An extensive education by these trade organizations guarantees that they'll set your engagement ring with the ideal gemstones. Meanwhile, our goldsmiths have years of experience crafting exceptional jewelry. Talented artists in their own right, we're thrilled to have them on staff.
Create Your Own Engagement Ring at the Wedding Ring Shop
The Wedding Ring Shop, voted Honolulu's Best in 2022 has the most trusted source for fine engagement rings. Whether you're looking for a custom-designed masterpiece or an exceptional designer brand offering, you'll find it at our sublime showroom. We also provide professional jewelry repair to further the longevity of your engagement ring, ensuring that it lasts a lifetime. For more information on everything available at our Hawaii jewelry shop, call (808) 945-7766 to speak directly with a Trusted Diamond Advisor.