Delicate Engagement Rings Evoke An Understated Beauty
August 15th, 2021
Glamorous engagement rings can be breathtaking, but there is something to be said about a delicately understated ring. Forever in style, these timeless designs are proof that less is definitely more. Let's take a deep dive into some of our favorite solitaire engagement rings that are just as beautiful as any elaborate design.
The Modern Solitaire
It is no surprise that among the most popular delicate engagement ring designs are solitaires. Solitaire rings are known to accentuate the center stone with minimal distractions. The solid band allows the spotlight to go straight to the diamond center. While this classic style remains an elegant choice, modern designers have added romantic details and design flourishes only visible with a closer look.
The Hidden Halo
Hidden halos, also referred to as under halos, feature a row of radiant diamonds that wrap beneath the center stone. This glittering halo is only visible from the side profile of the ring. Radiating brilliance from all angles, this design elevates the solitaire to new heights. Noam Carver offers a gorgeous hidden halo ring. While it is only one of the many options available, this ring is a popular choice due to its regal profile.
Dripping In Diamonds
For the bride who loves simplicity but appreciates a refreshing twist, select an engagement ring with unique hidden diamond details. As a variation of the hidden halo, draping diamonds cascade around the center stone cloaking the ring with elegant curves of shimmering stones. The ribbons of cascading diamonds can only be seen from a side view, like this vintage white gold engagement ring that has a striking hanging halo.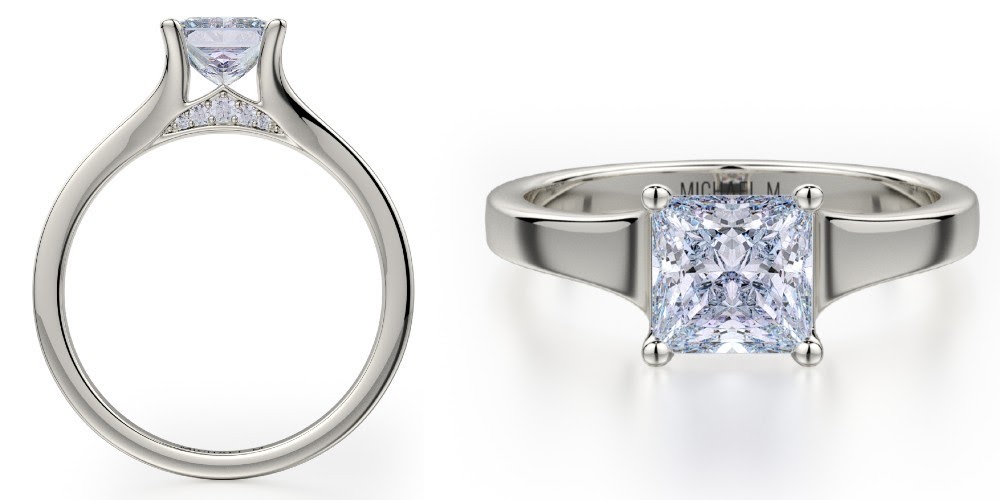 Elevated to Perfection
An elevated profile view can add more than just diamonds. Michael M offers a striking diamond setting in the form of a U-shaped carriage that hugs only two sides of the center stone. The design allows for the diamond to be admired from every angle, showcasing the brilliantly cut stone in a breathtaking new way. In this Michael M engagement ring, a crown of diamonds accents the bridge underneath the center stone—an eye-catching detail that adds a touch of drama to this classic design.
It's All In the Details
While diamonds are the gemstone of choice for engagement rings, secret colored gems set into the ring band are a new sought-after feature. A vibrant jewel can also be tucked away in the gallery or on the bridge. Each gemstone holds a special meaning, and this symbolism will stay with you throughout your marriage, so pay special attention to what kind of stone you might want.
If this is a style that intrigues you, there are a few options. You can either customize your engagement ring with an embedded gemstone or choose a ring from a designer that has hopped on this trend like Hearts On Fire. In the Hayley Paige collaboration collection, every engagement ring is set with a hidden pink sapphire—symbolizing love, wisdom, and purity.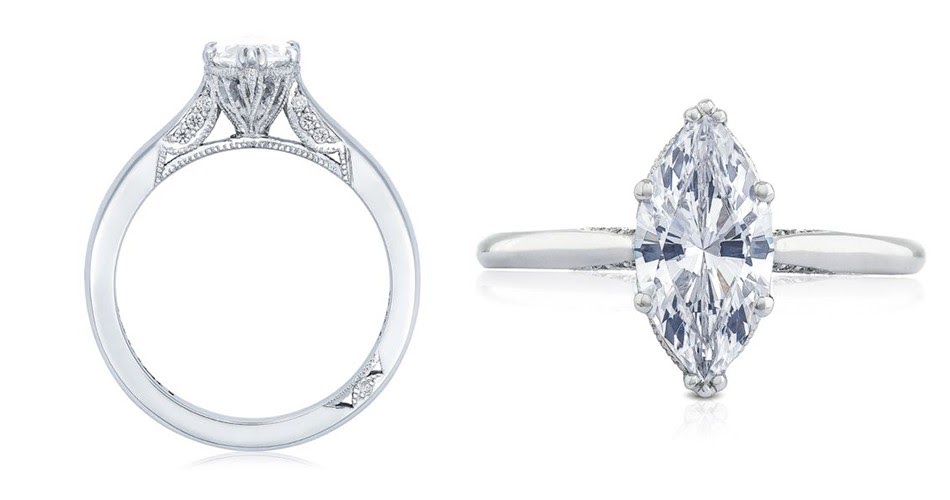 Gallery Glamour
Tacori has mastered the art of artisanal design with their endless options of engagement rings with hidden details. For example, a stunning cathedral setting can be left on its own for minimalist aesthetics, or the space between the arches and shank can be adorned with filigree patterns that hint at vintage glamour. Under stone blooming halos, diamond-tipped prongs, and jaw-dropping gallery work are a sight to behold.
Consider a Tacori solitaire ring with a distinctive profile. This impressive marquise cut engagement ring looks like a solitaire from an aerial view. Still, the side profile is the true show stopper, revealing lavish diamond accents set below the center stone.
Explore Delicate Engagement Rings at The Wedding Ring Shop
Located in beautiful Honolulu, our team here at The Wedding Ring Shop is honored to be part of such a magical time in your lives. We are ready and waiting to assist you in any way we can. We pride ourselves on helping couples from every walk of life find and purchase a remarkable engagement ring in Hawaii. Stop by to discover more delicate styles.