Engagement Ring Ideas for Valentine's Day
February 5th, 2020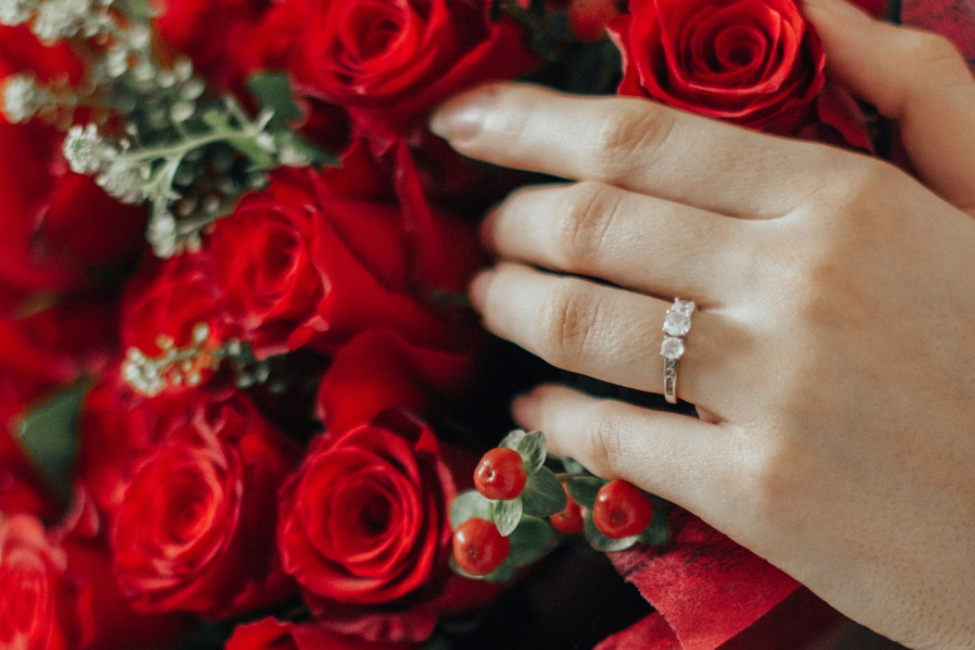 Approximately 1,260,000 people get engaged on Valentine's Day. If you're one of those couples, or you've had the idea of having a special engagement, the best bet is to pair it with an engagement ring that will best represent the day. By selecting a ring that screams "Valentine's Day," you select a ring that'll immediately bring to mind the two aspects of the day—its romantic significance and the sea-change in your relationship.
At The Wedding Ring Shop, bridal jewelry is quite literally in our name. We showcase some remarkable collections of engagement rings, and if you're shopping for something special to pop the question on the 14th, we've got something special for you. But what might be the ideal way to represent Valentine's Day in one of the engagement rings we offer?
Rose Gold & Red Stones
This one might be the most obvious choice, but there are few options better for celebrating a day of passion and love than with colors that resonate with passion and love. To that end, we suggest finding a rose gold ring or one studded with red gemstones to accentuate the center stone. Many of our designers utilize rose gold in their designs, foremost among them Michael M. However, what you may not know is that the percentage of copper in the rose gold alloy changes the color: 14k rose gold will appear far redder than 18k rose gold, which is pinker.
The Kirk Kara Charlotte collection is an exceptional choice for those searching for red gemstones—ruby baguettes are used in white gold for the sake of contrast, and they do a great job of conjuring a world of passion and love.
Symbols of Togetherness
There are several symbols of "togetherness" that can be used for the purpose of representing Valentine's Day. One of the more common symbols is the three-stone diamond ring, which tends to be used to represent past-present-future, man-woman-marriage, or other "big threes" in a woman's life. However, if you're looking for a more striking symbol of togetherness, you can use two other methods. We offer custom jewelry design, which allows us to create two-stone engagement rings according to your preferences. A popular contemporary look is to create a two-stone ring using the fiancé and fiancée's birth stones, which is something we can do in-house.
A Heart or Two
Hearts! They're the great symbol of love in the West, and we're confident that a Valentine's Day engagement ring with a heart in it will stir a woman's heart any time she sees it. Generally, you can choose a heart-cut diamond for the center stone. For many women, a heart cut is a charming way of celebrating her affection.
Alternatively, if a fiancée-to-be isn't partial to the heart-cut diamond, we can offer Tacori. Each piece from Tacori has their "Tacori crescent" pattern engraved in it. Made to be the tops of hidden hearts, this style may offer a charming secret between a man and his partner.
If you'd like to find out more about the engagement rings we offer at The Wedding Ring Shop, contact our Honolulu, Hawaii showroom today at 808-945-7766.