Sparkling and Sophisticated: Luxury Jewelry By Gabriel & Co.
November 15th, 2023
At The Wedding Ring Shop, we are immensely proud to showcase the exquisite designs of Gabriel & Co. here at our showroom in Honolulu, Hawaii. Esteemed for their unyielding commitment to using high-quality materials and certified diamonds while adhering to the most ethical practices in the industry, this well-known designer echoes our mission to offer "Hawaii's Most Beautiful DIamonds." Seamlessly merging trending designs with distinctive flair, each piece stands out as both modern and enduring. Housing such a renowned designer amplifies the allure of our collection. Let our expert jewelers help you explore the unmatched grace of Gabriel & Co.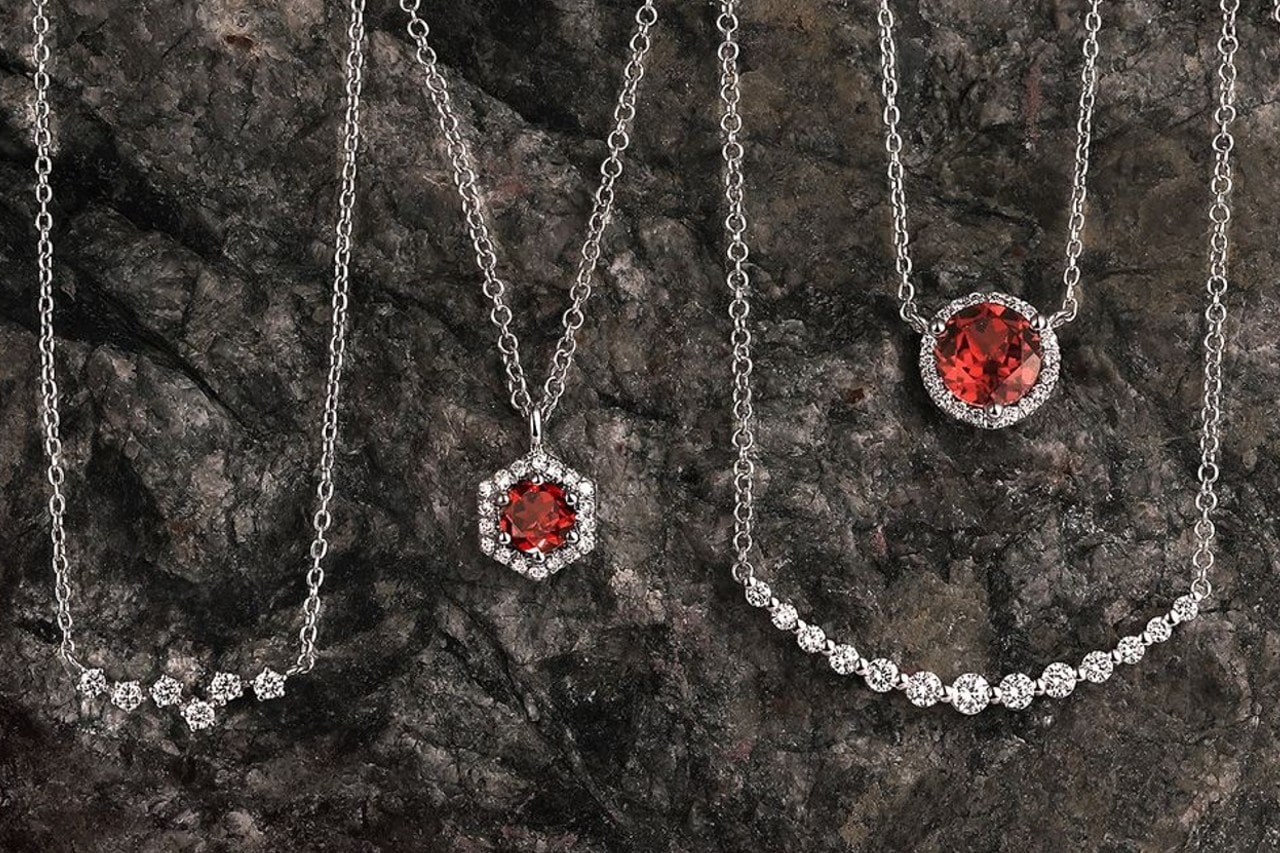 About Gabriel & Co.
As a brand steeped in rich history and exquisite craftsmanship, Gabriel & Co. meticulously handcrafts each glittering piece in the vibrant heart of New York City. Founded over 30 years ago by the visionary brothers, Jack and Dominick Gabriel, the brand quickly carved out a niche, becoming synonymous with passion, reliability, and a distinct artistic vision. Committed to excellence, Gabriel & Co. employs only the finest metals and top-tier diamonds, ensuring not only top-notch quality but also steadfast dedication to virtuous standards.
The brand's philosophy extends beyond mere aesthetics; they harbor a profound appreciation for the sentimental value of jewelry, recognizing the emotions and stories each piece signifies. Their designs, while always on-trend, are part of an array of unique, jaw-dropping collections, deftly merging unparalleled artistry with cutting-edge technology. At its core, Gabriel & Co. deeply grasps the "why" of jewelry: celebrating life's milestones, honoring cherished relationships, and encapsulating the ineffable beauty of life's moments with those we hold dear.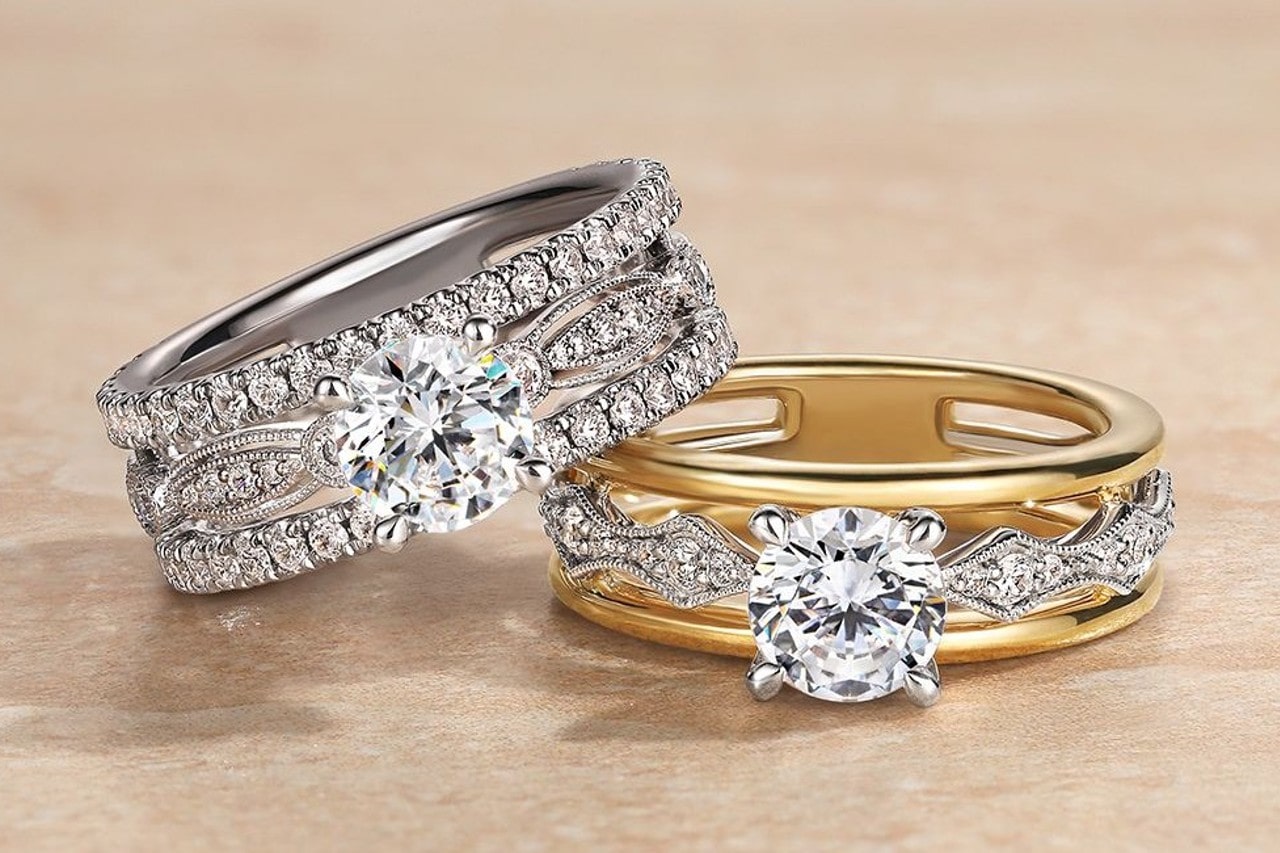 Popular Gabriel & Co Bridal Jewelry
When it comes to lavish bridal jewelry, unparalleled craftsmanship and innovative design come to life through Gabriel & Co.'s creations. Each engagement ring is an emblem of detailed artistry, flaunting silhouettes that set them apart – be it the delicate charm of a chevron dip, the audacious allure of swirling avant-garde styles, or the organic beauty of free-form wraps. These designs seamlessly meld contemporary flair with vintage touches. As for their wedding bands, precision is evident in pieces designed to perfectly match their engagement ring counterparts. Yet, the brand also encourages individual expression, offering a diverse range of lovely styles, including the increasingly popular stackable bands. This allows couples to craft a set that truly echoes their distinctive love story and character.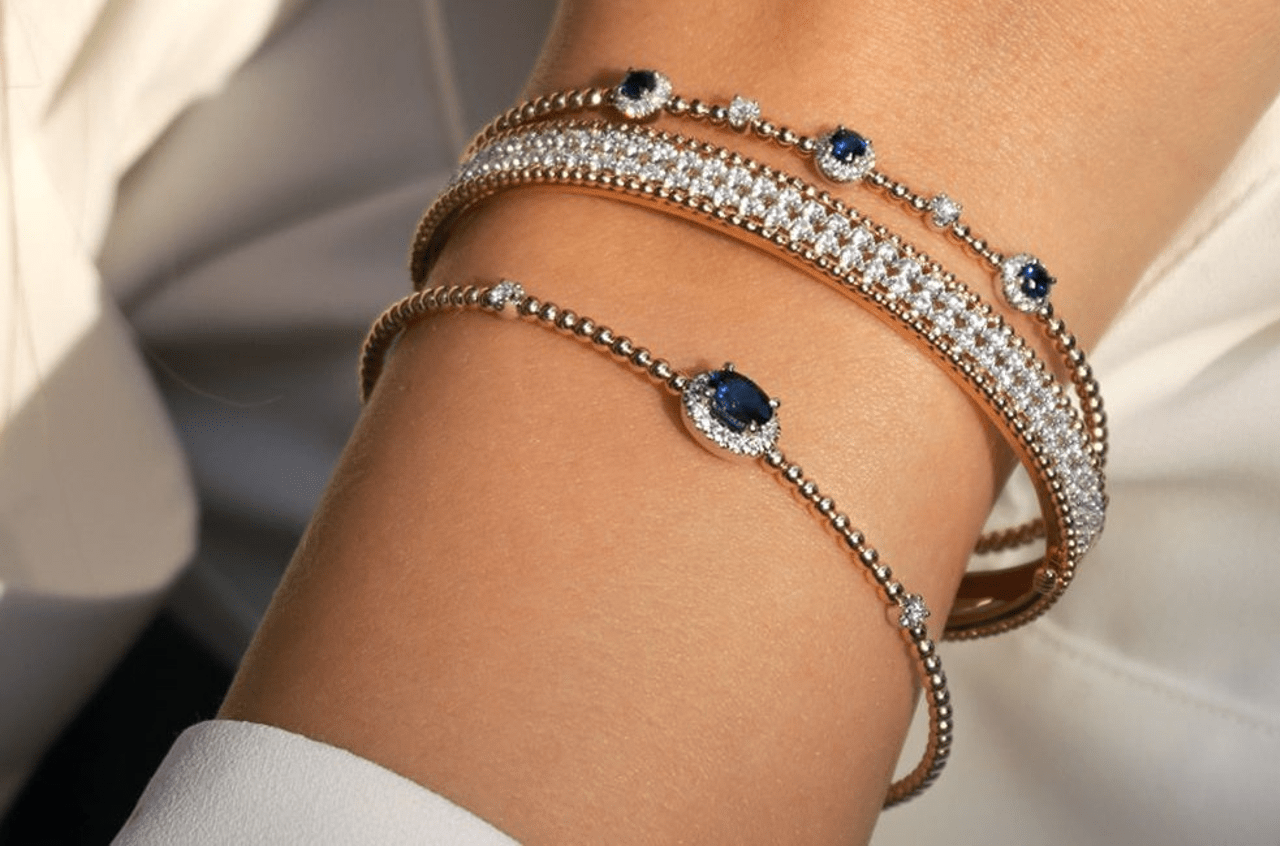 Popular Gabriel & Co. Fashion Jewelry
Diving into the world of fashion jewelry, Gabriel & Co.'s diverse offering is a symphony of elegance and innovation. Their necklaces, often characterized by intricate detailing, possess a signature finesse that's unmistakably Gabriel & Co. The bracelets intertwine classic charm with modern twists, often featuring vibrant gems and sparkling diamonds, making them eye-catching statement pieces. Earrings from this designer are not mere adornments but conversation starters, exhibiting audacious designs that meld with timeless appeal. Their fashion rings, a blend of boldness and subtlety, encapsulate the brand's ethos perfectly. Each piece carries design elements that distinctly emulate the unparalleled artistry of Gabriel & Co.
Popular Men's Jewelry by Gabriel & Co.
Men can also embrace the artistry of this world-renowned designer's artistry in the realm of men's jewelry, curating pieces that epitomize masculinity with refined flair. Their offerings for men strike a balance between boldness and sophistication, with design elements that are both distinctive and understated. Whether it's the rugged allure of their bracelets or chain necklaces or the sharp, geometric intricacies of their rings, each piece is a testament to meticulous craftsmanship. Signature textures and materials, often blending contemporary flair with classic motifs, make every item unmistakably Gabriel & Co. Through their men's collection, the brand shows that luxury and individuality can coexist, crafting statements that resonate with the modern man.
Explore Gabriel & Co. at The Wedding Ring Shop
Discover the allure of impeccable bridal and fashion jewelry by celebrated brands, including the distinguished Gabriel & Co., at our Honolulu jewelry store. Steeped in poise and craftsmanship, our collection proudly reflects our mission to bring you "Hawaii's Most Beautiful Diamonds." Beyond our curated selection, we also offer custom design services, allowing you to craft a piece as unique as your own story. Immerse yourself in a world of brilliance and refinement. Request an appointment today for a personalized consultation with our dedicated team members, and let us illuminate your jewelry journey.