Hawaii Proposals: The 10 Most Romantic Places to Propose in Hawaii
March 12th, 2017
If you're looking to pop the question in paradise, discover The Wedding Ring Shop's guide on the 10 most romantic places to propose in Hawaii. We cover sunrise proposals, sunset proposals, secluded beach proposals and more!
The 10 Most Romantic Places to Propose in Hawaii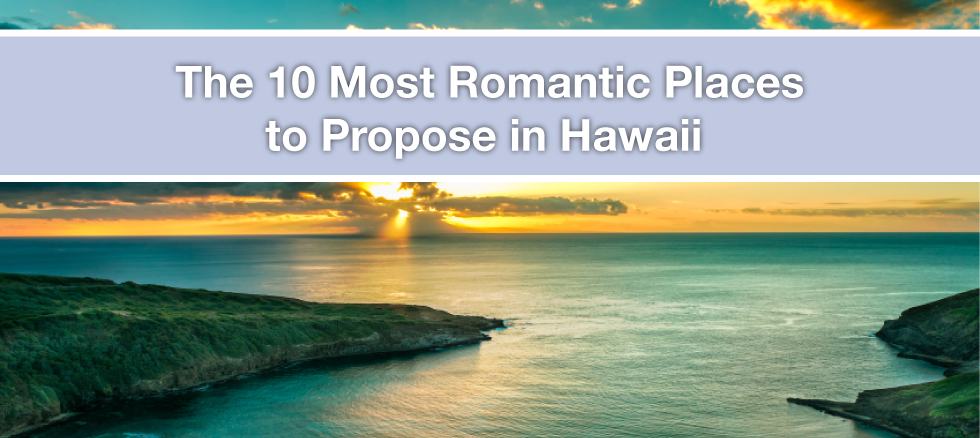 Hawaii is an exotic place ? both for residents and those traveling to escape from the ordinary. With beautiful landscapes, extraordinary beaches and breathtaking waterfalls, it?s no wonder Hawaii offers so many romantic options for those hoping to pop the question.
Asking for someone?s hand in marriage can be an overwhelming task. You?ve put this much effort into finding the ring and getting the love of your life to tag along for the day, but planning the perfect place to make the moment special shouldn?t have to be hard. Even though a lot of people make romantic roots in this area, it?s easy to find a place that?s unique to you for this special moment in your life.
Whether you?re looking for a romantic sunrise or sunset, a tropical oasis or a secluded beach, there are plenty of options for finding a romantic place to propose in Hawaii. With so many great Hawaii engagement ideas, the toughest part will be picking which location to get down on one knee.
Sunrise Proposals
If you and your significant other are early risers, a sunrise proposal with a beautiful array of colors as a backdrop is sure to be romantic. Here are a couple of Hawaii proposal ideas with great views of the sunrise:
Haleakala National Park in Maui. Haleakala National Park, or the ?house of the sun,? is home to endangered species, volcanic landscapes and sub-tropical rainforests filled with secluded hiking trails that lead visitors through this exotic location. Hikers can bring a picnic breakfast and hunker down for the colorful display of light that spreads across the valley. It can be chilly, sometimes below freezing, before sunrise at the top of this 10,023-foot dormant volcano, so prepare with plenty of layers. Sunscreen is also recommended if you plan to stick around for a hike through the volcanic landscape. There is no food, beverages or gasoline in the park, so be prepared. If the volcano isn?t of much interest, the coast is a beautiful spot to make a romantic beach proposal in Hawaii.
The coastal area is a picturesque backdrop to a romantic Hawaii proposal. Visitors can view the landscapes that have been inhabited by natives and experience the breathtaking views of the 400-foot Waimoku Falls, as well as the Seven Sacred Pools, or Oheo Gulch. Take some time to walk the shore and visit the tropical forest. Both the volcano and shore draw a crowd, and each can take a day to see. One visit and you?ll see why this park welcomes more than a million visitors every year.
Lanikai Beach on Oahu. The name of this mile-long, white sand beach means ?heavenly sea,? and after you visit, you?ll see why. Its calm waters are perfect for swimming and wading in the water without having to worry about the waves. The beach gives visitors a great view of the nearby Mokulua Islands. When you plan how to propose in Hawaii, keep in mind that the best part of this beach is found before Onekea Drive, so be sure to park in that neighborhood and take a trail to the beach.
There are no posted beach signs, so you?ll know you?re in the right place by keeping an eye on the streets and looking for a large pillar that reads ?Lanikai.?
Lanikai Beach is great for a romantic sunrise proposal because it offers the breathtaking views only seen on the eastward side of Oahu. Watch the sun rise over the Koolau Mountains as you make your Hawaii beach proposal.
Sunset Engagement
If early mornings aren?t your thing, sunset proposals can be just as romantic. The beautiful light of the sun sets on one chapter of your life before rising at the prospect of a new life together. The following beaches are known as some of the best to visit if you?re looking for romance in Hawaii:
Kaanapali Beach in west Maui. Known as Maui?s ?signature beach,? Kaanapali was named one of the best beaches in 2003 and offers three miles of white sand, perfect for a romantic walk. Once a retreat for the wealthy, Kaanapali is now a public getaway.
This location is best known for Puu Kekaa, or the Black Rock. It?s an area well-known for snorkeling, with the water ranging from about eight to 25 feet deep, depending on the slant of the lava rock under the water. The water is fairly clear, even in deeper areas, and turtles are often found frequenting this spot.
Linger with your loved one after the rest of the observers leave, and admire the sun as it appears to melt into the ocean.One aspect that makes Kaanapali even more unique and romantic is the cliff diving ceremony that takes place at sunset each day. The act of the dive, accompanied by the lighting of torches that line the cliff, is in honor of Maui?s King Kahekili, who completed a similar feat.
Puu Ualakaa State Park in Oahu. A one-mile loop trail leads to a lookout at Puu Ualakaa State Park where visitors can view southern Oahu. This spot is known for romantic sunset picnics while onlookers admire the views of Diamond Head and Pearl Harbor. Even Honolulu and Manoa Valley can be seen from this height, which sits on top of a cinder cone near downtown Honolulu.
The trail leads through a wooded area, and the leisurely walk will take visitors up to the top of the hill that overlooks the city below. Let the backdrop of the forest and the bustling city be the perfect, romantic sunset location for your Hawaii engagement idea.
Kailua Kona Coast on the Big Island. This seaside town on the coast of Kona is an ideal spot to watch the sunset. A historic fishing village, this coast is now a destination for shopping, restaurants, and those who want to get away from the bustle of life.
This area is known for coffee production, created from the coffea arabica found on the hills of the island, and it?s where the Ironman World Championship starts and finishes its annual triathlon. The coast is also is great for snorkeling, fishing and stopping at restaurants that sit along the water. The quiet town is a nice place to take a casual, romantic stroll through the historic buildings.
Spend the day learning about King Kamehameha I by visiting the Hulihee Palace and Mokuaikaua Church, both on Alii Drive. Sneak away to Kailua Pier for the breathtaking sunset. Here, the view of the palace?s well-kept grounds and picturesque coconut trees provide a backdrop for a beautiful proposal location. If you?d rather get out on the water, sunset cruises are available to make your evening one of the most romantic experiences in Hawaii.
The Na Pali Coast of Kauai. One of the most beautiful places in the world, the Na Pali Coast of Kauai is home to waterfalls, beautiful green mountains, and a breathtaking coastline. The pali, or cliffs, are a backdrop of rugged valleys that suddenly end once they reach the ocean. The valleys are dotted with waterfalls and streams that continue to cut into the terrain. Stone terraces where Hawaiians once lived can still be found on extensive hikes. A large state park here is made up of these beautiful landscapes for all to enjoy. Many plants that once thrived on the island are considered endangered. Because of that, there are no roads in this area.
The Kalalau Trail is 11 miles long, though just a two-mile stretch out to the beach, and is the only way to reach the coast by land. Private boat tours are another option if you aren?t up for the hike, although you might miss out on some beautiful landscapes.
The hike is tough but beautiful. Some hikers split it up into two days, camping along the way. Sailing, rafting and kayaking are popular activities in this area and one of the easier ways to reach the coast, for those who want to avoid the hike.
Whether you choose the coastline as your romantic proposal location, or you find a stunning waterfall along your hike, Kauai is a destination that you and your soon-to-be fianc?e will not soon forget.
Secluded Beach Proposals
Some of the best places to propose in Hawaii are those secluded, intimate locations. If you?re not one to put on a show and propose in front of strangers (or even family members), then a secluded beach proposal might be the best way to capture that life changing moment with you and your sweetheart. Here are some beach proposal ideas: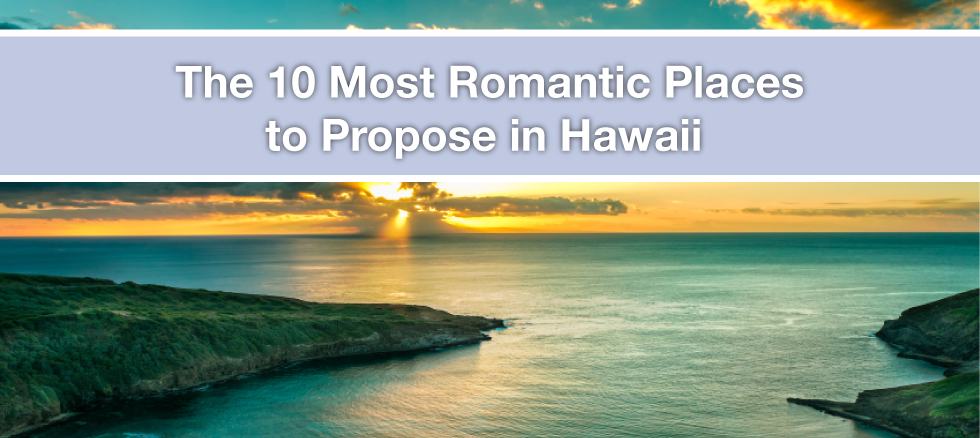 Maniniowali Beach at Kua Bay on the Big Island. Watch out for powerful waves in this location, but be ready to be swept away by the beautiful views of the ocean and romantic atmosphere. The drive to the beach, once only accessible by a dirt path, was paved in recent years. While it?s easier to get to, it?s still not widely known and can provide a quiet, secluded location for your Hawaii engagement. Sit on the lava rocks and keep an eye out for turtle and dolphin sightings, a common occurrence at this spot. Packing a picnic lunch is also a good idea. Recently installed showers and bathrooms near the parking lot make it easy to spend a few hours on the beach.
Sugar Beach on Maui. Home to condos and resorts, Sugar Beach, also known as Kealia Beach, is said to be one of the longest beaches in Maui. You won?t find any buildings on this beach, making it a perfect spot for a romantic, secluded proposal. It can be a bit windy here, though, so it?s a favorite spot for kite flying and kayakers that often push off from the shore.
It?s also a good spot for whale watching in the winter months, about November through March, and Kealia Pond National Wildlife Refuge is great for watching for birds and other wildlife. This salt marsh can be viewed by visitors who walk along the beach and hope to catch a glimpse of the creatures that find refuge in this area.
Not many tourists or locals crowd this beach, so it?s sure to be a quiet, romantic place in Hawaii for your engagement. Take advantage of the quiet, beautiful views of the ocean when you pop the big question.
Kuilima Cove in Oahu. Known as one of the best snorkeling beaches in Hawaii, Kuilima Cove on Oahu is surrounded by secluded locations, including Turtle Bay and Waimea Bay along the north shore of the island. One of the lesser known beaches, it?s maintained by a nearby hotel, so you?ll find it?s well kept and beautiful.
This is a great spot if you?re new to snorkeling and want to take your sweetheart on a secluded, beginners snorkeling adventure. Most of the water is clear and shallow, allowing for perfect views of the fish and coral flats below. It?s like getting the chance to step into and swim around an aquarium.
A natural rock barrier keeps this area secluded and free of some of the rocky waves Hawaii is known for. After all that snorkeling, a picnic lunch is a great way to dry off on the beach under the bright sun. Be sure to bring plenty of sunscreen, beach chairs, and snorkeling gear to get started.
This romantic location is perfect for a beach proposal, especially if you enjoy getting a little activity in at the same time.
The Waipi?o Valley on the Big Island. Known as the Valley of the Kings, The Waipi?o Valley on Hawaii?s Big Island holds a deep history. Ancient royals of Hawaii were buried in this area. Cliffs can be seen in the distance with valleys filled with some of the most beautiful waterfalls you can see in Hawaii.
The valley is also spotted with taro fields and lotus ponds. Several streams find their home in the valley before they reach the ocean and disperse into its vastness. This area is great for a romantic horseback ride through the unique landscape. As the
largest and most southern valley in this area, it offers 2,500-foot high cliffs and the 1,000-foot tall Hiilawe Falls, a popular destination in this area.
Some of valley?s famous overlooks are only accessible by horseback or 4 wheelers. Helicopter rides also gives beautiful views of the valley below. If you?d like to get in some history, visit some of the remaining temples that were important to the natives of this island, known for its fertile land and places of refuge.
There is a surplus of beautiful locations in this valley, so be sure to find one that?s meaningful to you when you determine how to propose in Hawaii.
A DESTINATION FOR LOVE
No matter which island, waterfall, or beach you choose as the location for your proposal, make sure you have everything you need to make the moment one you?re sure to never forget. You?ve worked this hard to know the right words to say, find the perfect spot, and to bring the one you want to spend the rest of your life with. Make sure you have the right ring to make this moment last a lifetime.
Let the jewelers at
The Wedding Ring Shop help you pick out the perfect ring that?s sure to make her say ?yes.? Schedule a consultation with us today!