Make Fancy Shape Engagement Rings a Part of Your Holiday Love Story
December 18th, 2019
The holidays are a prime time to get engaged. Between Christmas and New Year's, many couples put a ring on it. But what ring you put on her is a very important decision! And if you're trying to pick out the perfect ring, you should know that fancy shape engagement rings are the hottest trend this season!
A fancy shape engagement ring is something your future bride will love to show off because of its unique design and style. You just have to pick the one that you think will be right for her! Here are some facts about fancy shape diamonds to help get you started!
The Many Cuts of Fancy Shape Diamonds
There are ten main shapes when it comes to diamonds. Any engagement ring diamond that is not a round brilliant cut is considered a fancy shape. Round brilliant diamonds have traditionally been the most popular because their high number of facets makes them the most sparkly, but that doesn't mean the other nine aren't absolutely gorgeous (and more unique) as well!
Fancy shape cuts are also less expensive than round cuts, though this has nothing to do with quality. Because of a round diamond's symmetry, it takes more skill and raw material to cut a round shape rather than a fancy shape. This drives up the price.
Fancy diamonds fall into three sub-categories. The shapes considered modified brilliant cuts are oval, marquise, pear, heart-shaped, and trilliant (probably the least common of all the cuts). Emerald and Asscher are step cuts, and princess and radiant shapes are mixed cuts.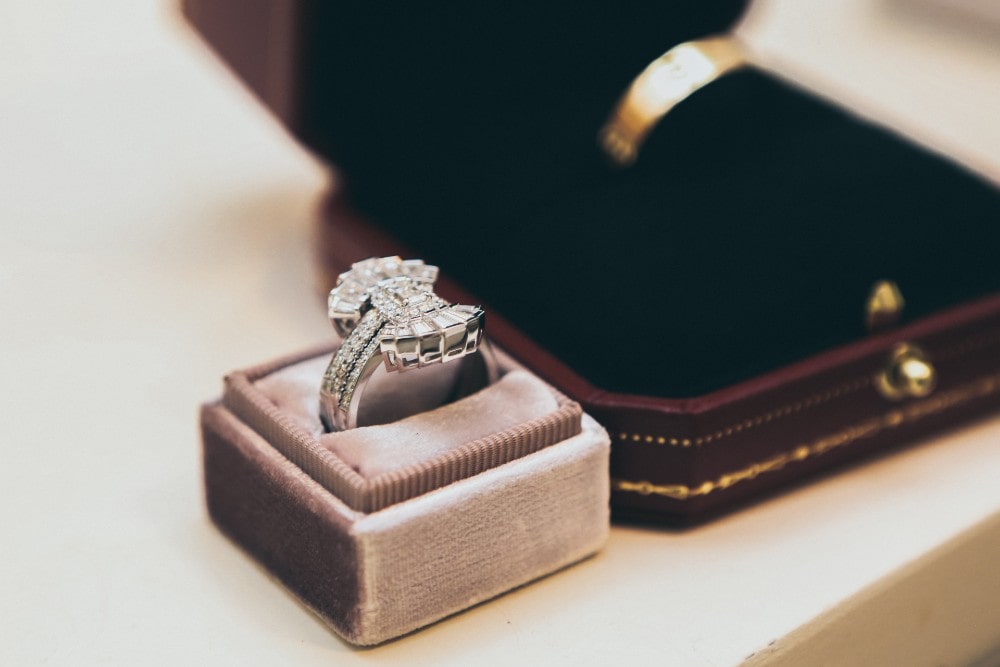 Fancy Shape Engagement Rings on the Rise
Fancy shape diamonds have gained more and more popularity in recent years, with celebs like Priyanka Chopra, Cardi B, Karlie Kloss, and Hailey Bieber sporting them. Modern rings featuring shapes like princess and oval are seen in designs almost as often as round brilliant cuts nowadays.
But modern isn't the only trend having its moment in the sun. Vintage ring styles are actually making a comeback as well, with the help of step cuts emerald and Asscher. These timeless fancy cut engagement rings harken back to an elegant time, and are the type of pieces that can be passed on for generations.
It's not just about the cut, either. Designers are incorporating fancy shape diamonds into all kinds of unique styles. The three-stone ring—which traditionally represents past, present, and future—is getting a contemporary update using fancy diamonds in the center and different shapes on the sides, like baguettes, trillions, and pears. There's also the east-west positioning trend, which takes something like an emerald-cut diamond and flips the stone on its side, making for a more modern, low-profile, classy design.
Find the Perfect Ring for You
Now that you know a little more about fancy shape engagement rings, it's time to head to the store to pick out the perfect ring for the woman you love. The Wedding Ring Shop goes above and beyond when it comes to engagement, wedding, and anniversary jewelry. We'll make sure you find a ring that will thrill your beloved and stand the test of time.
If you're thinking of picking out a ring together, or you're a gal who needs to help out her man, our website has everything you need to start your wish list and send a hint to your loved ones. Browse our huge selection of rings online now! And may you live happily ever after while sporting a gorgeous diamond on your finger!