Rings that go Hand in Hand
June 8th, 2022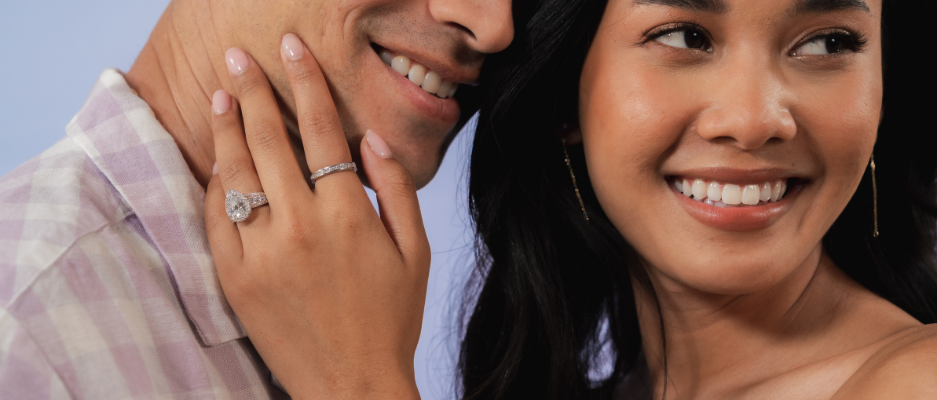 Before your big day, your shopping list becomes full of large ticket items– booking venues, reservations, decorations, catering, party favors and more! The shopping list seems to never end! There's one thing that you should keep high on that list, and that's your wedding bands.
Both engagement rings and wedding bands are symbols of the union of marriage.
Typically worn together, your engagement ring and wedding band go hand and hand.
Early browsing, window shopping, and viewing online options, is a great place to start your wedding band shopping journey. At first, it could be a little overwhelming, and we get it but the last thing you want to do is push off your wedding band purchases.
Here are a few things to consider during your wedding band shopping:
Timing:
Allow you and your partner to have enough time to do the research, the shopping, and the purchasing. Time flies when you are planning your big day. Customization can take anywhere from 3-6 weeks, so ask important questions when purchasing your bands. Every store has their own methods of delivering your bands, so make sure you allow yourself the time if you're getting customized designs because of the labor and shipping times.
Sizes:
You'll want to make sure you are picking out the right wedding band size. Some metals, designers, stones, and styles, might make the ring out to be a different size compared to your engagement ring. For gentlemen, this is their first chance for them to get their fingers officially sized by professionals!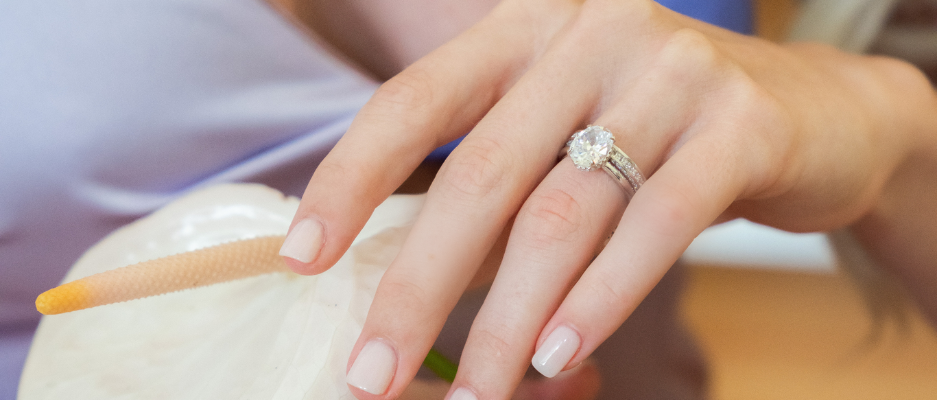 Band Width:
Many brides go with a band that they can stack with their engagement ring. Whether that's the same designer, metal, or style, the width of your wedding band is something to take into consideration. For both men and women, you want something that's comfortable for you. Men tend to lean towards something thicker, snug, and comfortable. And oftentimes, designers offer a free sports band with a purchase. This could be great for when he gets off work and wants to hit the beach for some surf!
Metals:
Bring your engagement ring with you when you start to do in-person shopping. Ideally, your engagement ring and wedding band metals match, so it's important to have those color swatches next to each other. Or if you're not into matching metals, it could be a good chance to compare complementary metals. You never know what color combinations might spark your interest. Some people even get matching wedding bands with their partner, so that's always an option too! Try them on, feel them, and compare what styles you like best before making that final decision.
Prices:
Talk to your significant other about the purchase of your wedding bands. Noone wants to be left out, and like some items, mens bands get overlooked. It's nice to be honest with your spouse so that when the day comes, you can both be a part of your ring ceremony.
His Band:
Don't forget about him!! Most wedding ring shops provide a large array of mens bands, he'll pick something out that he loves, or he'll pick something out that matches your wedding band. Most couples end up with matching bands, but it's not uncommon when couples pick what's unique to them.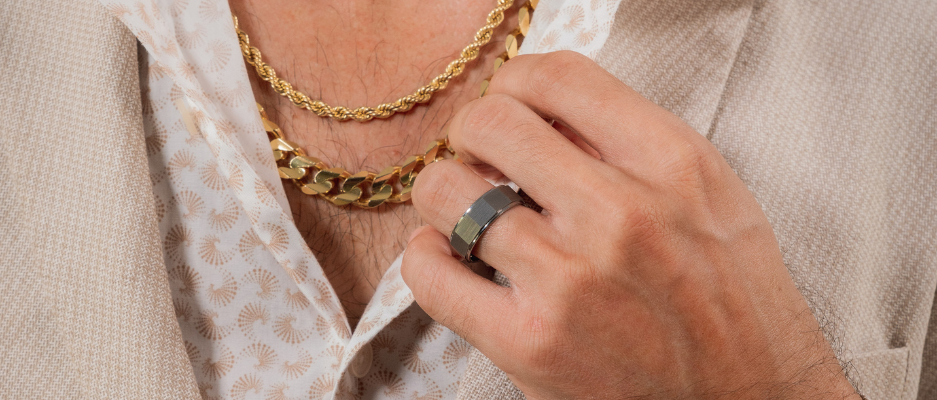 Overall:
Overall, your wedding band shopping experience should be fun, exciting, and a huge accomplishment before the big day! You should feel confident in your purchase, with a ring that is true to you and your partner, after all you'll be wearing them the most.
Next purchase, anniversary bands ;)
If you or someone you know is in the market to purchase wedding bands check out our Tax-Free Wedding Band Weekend. Happening October 21st-23rd! A 3 day event where we pay all taxes. You'll be in great hands with one of our trusted advisors. Click here to book your appointment.