Spotlight on A.JAFFE: Quality Craftsmanship With Style
July 1st, 2020
Discussions of the bridal jewelry available at The Wedding Ring Shop would be incomplete without turning a spotlight on A. Jaffe. This vintage brand has managed to prosper to the modern era, taking lessons from each decade in which it has crafted jewelry.
Given the storied history, it's not impossible for four generations (or more!) of women in a family to wear A. Jaffe bridal jewelry—and that begs two questions. First, what is it that drives women to pick A. Jaffe jewelry over other choices; and two, what is that spark of uniqueness that makes a wedding band from the designer something utterly different?
We're going to answer those for you today!
Legacy
We briefly touched on this, but A. Jaffe is a company that opened its doors in 1892 in New York City. This means that it's a 128-year-old brand. This history isn't just remarkable in itself: It means that every piece of A. Jaffe jewelry comes with the best elements of over a century of artistic labor.
This is perfectly represented in the complementary beauty of the Art Deco and Metropolitan collections. The former, inspired by the artistic period between the 1920s-1940s, blends geometric boldness and step-cut diamonds with the Tiffany-style prongs first popularized in this period. The Metropolitan collection is far more contemporary, with twisted shanks, bezel solitaire engagement rings, and halo-style wedding bands.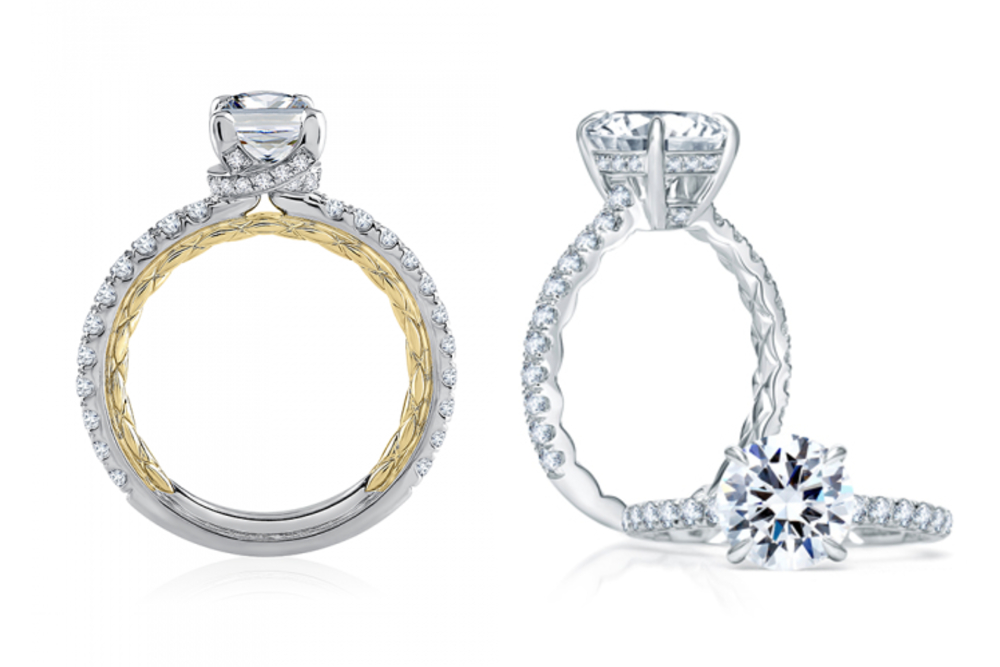 Design Theory
One of the most interesting features of A. Jaffe is that the designer has a few trademarks that make their way into their jewelry. Two of the most intriguing features that scream A. Jaffe are their use of quilted patterns in their gold rings and the Euro-style shank.
The former, quilting, is on an ergonomic level, a feature that's made to make a ring fit more comfortably on a woman's finger, but there's also a level of dramatic chic that comes from seeing yellow gold quilting set against a smooth white gold band or shank.
The Euro-style shank is a flattened bottom to an engagement ring. As with the quilting, there's a functional level to this feature: It prevents an engagement ring from turning on a woman's finger, but it's a striking and cosmopolitan element that lends a kind of bold heaviness to the profile of the piece—a very modern bit of cool.
Possibilities
Often, women have to do a bit of forward thinking when they settle on their engagement ring. The issue is that there can be difficulty in properly pairing their bridal jewelry to make a harmonious set. A. Jaffe solves this problem for women. Their rings are designed to be stackable, meaning that a woman who chooses two A. Jaffe pieces for her bridal set can be confident that they'll work perfectly together forever, forming an aesthetic complement that can be appreciated forever.
Having been in business since 1987, The Wedding Ring Shop has been at the forefront of bridal jewelry culture for decades. If you're interested in learning more about A. Jaffe, contact us today at 808-945-7766 or visit our Honolulu, Hawaii showroom today!